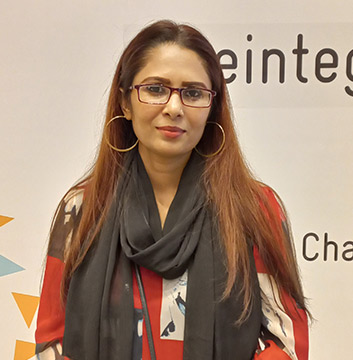 دشتِ فلک میں گردشِ تقدیر تو نہیں
Sumera Massey: A returnee from GCC and a beneficiary of Reintegration of Returnees in Pakistan under TVET SSP
"When life puts you down, you either choose to get back up or lose yourself in despair. I have always believed that if there are bad days, better days will follow soon. It gets difficult at times, but it is always worth it in the end."
Sumera, the youngest of seven siblings from a modest family in Lahore, always had this fiery demeanor complemented by a progressive and ambitious mindset. The will to do more and better kept her focused on exploring new opportunities and testing her true potential. She decided to move to Saudi Arabia in 2014 in the hope to gain better employment opportunities. Soon, she got a job at King Faisal Hospital in the Organ Transplant Unit as a Nurse. She was happy with what she was doing with her life and how far she had come – all by herself. 
She happened to go on a vacation to Dubai in 2016, and somehow ran into the man she would marry a year later. He had a job there and they both planned to settle together in either Riyadh or Dubai. Everything seemed to be working out for them. But unexpectedly, after they got married, Sumera's husband lost his job, and her in-laws did not fancy the idea of her working alone in a foreign country. She faced immense pressure from her husband's family and ultimately, being disappointed yet hopeful, she made the tough choice and came back to Pakistan. She was pregnant with her first child and was hoping for everything to work out the way she wanted. 
"All we can do is plan and then hope for the best. When you have seen the bigger world and achieved a lot all by yourself, it gets difficult to be contained and controlled. I had trouble assimilating with my husband's family in Pakistan and things never seemed to be on the right track. We decided to part ways and dissolve our relationship. I was left with a challenging task of raising my son alone and giving him a comfortable lifestyle." These were Sumera's words when she was asked about her experience of migrating back to her home country. 
It was not easy for her to make her ends meet in the beginning. She had always liked the fashion industry and decided to design dresses that were not too expensive. She would just design the clothes and have the local tailors stitch them. The business was good but not enough, and she needed something else to generate a sustainable income. She took help from her nephew and started delivering lunch boxes to offices nearby – however, lack of marketing and business development skills proved to be a challenge for her in acquiring new customers. 
She is now a beneficiary of the Reintegration of Returnees in Pakistan component of TVET Sector Support Programme. She believes that the Career and Entrepreneurship Advisory workshops will refine her skillset and help her in sustaining her businesses in the long run. 
Reintegration of Returnees in Pakistan is an initiative under the TVET Sector Support Programme that offers reintegration assistance to Pakistani returnees and nationals, particularly young adults, who return to their home country voluntarily. Reintegration of Returnees in Pakistan is commissioned by German Federal Ministry of Economic Cooperation and Development (BMZ) and implemented by the Deutsche Gesellschaft für Internationale Zusammenarbeit (GIZ) GmbH in partnership with the National Vocational and Technical Training Commission (NAVTTC).
GIZ has been helping returnees to start over successfully in their countries of origin since 2017 through multiple projects and advice centers. GIZ is currently supporting the returnees through several measures in Albania, Egypt, Ghana, Iraq, Kosovo, Morocco, Nigeria, Pakistan, Senegal, Serbia and Tunisia. To date, GIZ has implemented over 370,300 educational and training measures, including 11,200 reintegration measures for returnees from Germany in particular. Additionally, 101,800 measures for business start-ups have also been offered in various countries.