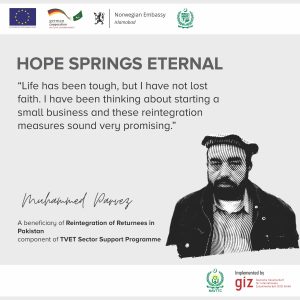 Muhammad Parvez: A returnee from Saudi Arabia and a beneficiary of Reintegration of Returnees in Pakistan under TVET Sector Support Programme
What's life? Happy one minute, challenging the next. But does that stop us from dreaming? We may fail sometimes, fight the uncertainties, but we always have the courage to get back up and push our boundaries. What keeps us going is hope! The most valuable thing that we, human beings have.
Meet Muhammad Parvez, an unassuming man from Lower Dir, who radiates resilience and grit. A man, who is living in hope for the fetters of his economic frailty to unfasten, for a spell to break. With a family of seven to feed, Parvez moved to Saudi Arabia in 2018, hoping for darkness to give way to dawn. He started working as a heavy-machinery vehicle driver and soon enough, was able to buy a car with his savings. However, he could not register the car under his name because of the local regulations and had to name it to a Saudi citizen. It did not matter much to him as he was drawing enough money to support his family. Everything seemed to be working out for him until he was hoodwinked by the same guy, and Parvez was left with no source of income. He has never been a quitter – he started looking for jobs again and was hired by a private taxi company. Tough luck or what, 2020 came, the pandemic hit the entire world, and he was left adrift – yet again. This time, he could not stay in Saudi and had to return to Pakistan.
It is not easy to emigrate for a few years and then return to your home country circumstantially. Parvez's unwavering resolve is exemplary and an inspiration to many. He is struggling but he has not given up. He is now a beneficiary of the Reintegration of Returnees in Pakistan component of the TVET (Technical and Vocational Education and Training) Sector Support Programme. He believes that the Career and Entrepreneurship Advisory Services will introduce him to new opportunities and help him start his own business.
"Life has been tough, but I have not lost faith. I have been thinking about starting a small business and these reintegration measures sound very promising."
Reintegration of Returnees in Pakistan is an initiative under the TVET Sector Support Programme that offers reintegration assistance to Pakistani returnees and nationals, particularly young adults, who return to their home country voluntarily. Reintegration of Returnees in Pakistan is commissioned by German Federal Ministry of Economic Cooperation and Development (BMZ) and implemented by the Deutsche Gesellschaft für Internationale Zusammenarbeit (GIZ) GmbH in partnership with the National Vocational and Technical Training Commission (NAVTTC).
GIZ has been helping returnees to start over successfully in their countries of origin since 2017 through various measures and advisory centers for jobs, migration, and reintegration in selected partner countries.
Published: April 2022