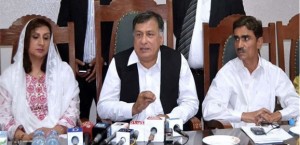 HYDERABAD June 3, 2016:The Sindh Technical and Vocational Training Authority (STEVTA)technical and vocational education and training is vital for economic development of the province and would also reduce the unemployment among youth.
"The need of technical and vocational education in Pakistan especially in Sindh is increasing with each passing day because this is the most effective tool to engage our youth in a productive way," says Syed Kaleem Makki, managing director STEVTA here on Friday.
Mr. Makki was briefing to reporters at Government College of Technology, Hyderabad, one of the 11 technical and vocational education and training (TVET) institutes of STEVTA, which isoffering for the first-time a Competency Based Training (CBT) course in various vocational trades.
The media persons were given orientation about the CBT, which is being offered in trades such asbeauty therapy, hair stylist, skin care, computer operator, web designing &development, auto-cade, graphic designing, e-commerce, heating &ventilation, electronics technician, building electrician, solar panel installation, and plumbersolar panel water heater installation.
The CBT is one of the innovative approaches to reduce un-employment ratio in the province, these training initiatives which is supported by the National Vocational & Technical Training Commission (NAVTTC) through TVET Reform Support Programme.