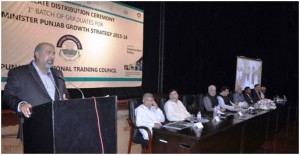 LAHORE May 12, 2016: Punjab'sminister for labour and chairman of skills development committee Raja Ashfaq Sarwar on Thursday formally launched the initiation of Competency Based Training (CBT), a new approach to produce skilled workforce, at 60 vocational training institutes of the Punjab Vocational Training Council (PVTC).
He launched the CBT courses at a special ceremony organized by the Punjab Vocational Training Council (PVTC) at the Expo Center here on Thursday in collaboration with the TVET Reform Support Programme, funded the European Union and the governments of the Netherlands, Germany and Norway.
The ceremony also marked the passing out of the 1st batch of graduates of PVTC under the Chief Minister Punjab's Growth Strategy.
Provincial minister for Zakat Mr. Malik Nadeem Kamran,ministerindustries Ch. Muhammad Shafique, secretary Zakat Mr. Nayar Iqbal, chairman PVTC Mr. Faisal Ejaz Khan, Head of TVET Reform Support Programme Mr. Hans-Ludwig Bruns and a large number of people from industry, various government agencies and civil society as well as young skilled persons attended the ceremony.
The introduction of CBT is an important element of the National Skills Strategy (NSS), which is the basis of the ongoing TVET sector reform in Pakistan and being supported by the European Union, the governments of Netherlands, Germany and Norway. Moreover, the CBT programme provides the basis for the implementation of the National Vocational Qualifications Framework (NVQF), which the government has launched in March last year at a national level.
Speaking on the occasion, the Raja Ashfaq Sarwar said that the incumbent government considers technical and vocational education and training (TVET) as a political priority and that is why a lot of emphasis is being given to this sector. He said Pakistan is blessed with a huge population of young people, which can be exploited for the economic growth of the country.
The minister resolved that the government will leave no stone unturned to reform the TVET sector because future of the coming generations relies on it. He lauded the efforts of the PVTC in providing employable skills to the youth of Punjab and hoped it will continue with the same zeal and enthusiasm.
Earlier, the chairman PVTC Mr. Faisal Ejaz Khan shed light on the achievements of the PVTC. He said keeping in view the latest trends based on market demands, the PVTC has developed curricula for 92 various trades to cater the growing demands of manufacturing, agriculture, health and service sectors.