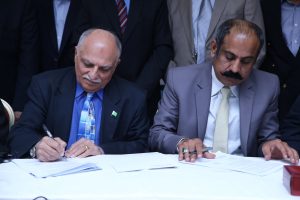 Karachi, January 11, 2018: The Sindh Technical Education and Vocational Training Authority (STEVTA) and Employers Federation of Pakistan (EFP) here on Thursday signed a Memorandum of Understanding (MoU) to promote the technical and vocational education and training (TVET) in the province.
The MoU was signed between the two organizations at a ceremony, which was attended by a large number of leaders from business and industry, senior government officials and TVET experts.
The MoU aims at promoting collaboration for effective implementation of TVET sector reform particularly focusing on enhanced engagement of industry.
The initiative has been supported by the TVET Sector Support Programme, which is funded by the European Union and governments of Germany and Norway. An advisory forum has already been established in the province for the promotion of TVET along with fostering partnership among stakeholders mainly from the public and the private sector.


Speaking at the ceremony Mr Muzaffar Ali Bhutto, Managing Director, STEVTA, said "training in the vocational fields proves beneficial for the development of quality skilled human resource to provide benefit to the industry."
President EFP Mr Majyd Aziz in his remarks underlined that the collaboration of private sector to provide on-the-job training and advising on curriculum development can enable substantial reform in the TVET sector.