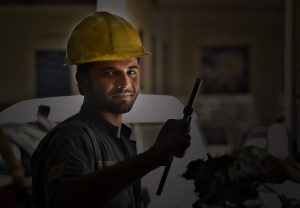 Islamabad: The Government of Pakistan has established industry-led Sector Skill Councils (SSCs) to produce skilled workforce according to the needs of hospitality and construction sectors.
The establishment of SSCs in these two sectors was the result of an extensive consultation process with the representatives of key employer-led associations of the sectors.
According to two separate notifications issued by National Vocational and Technical Training Commission (NAVTTC), issued on December 22, 2017 the SSCs will support the reform of Technical and Vocational Education & Training (TVET) in Pakistan. The SSCs will act as a platform to promote greater involvement of employers in the design and implementation of publicly-funded training and to increase the quality and scale of training.
According to the notification, Ms. Ayesha Khan from Hashoo Group has been appointed as interim President of the SSC for the Hospitality sector, while, Mr. Ahmed Shafiq from College of Tourism & Hotel Management (COTHM), Lahore, Mr. Afzal Ahmed Siddiqui from Skillston, Karachi and Ms. Qurat ul Ain from Institute of Tourism & Hotel Management (ITHM), Faisalabad are the Vice Presidents.
Similarly, Mr. Shahid Rafiq from Constructors Association of Pakistan (CAP) has been appointed as President of SSC for Construction, while Mr. Mohsin Sheikhani of Association of Builders and Developers (ABAD) will be its Vice President.
The interim SSCs will be responsible to support the development of SoPs for the councils, development and implementation of the annual business strategy, mobilization and outreaching to the companies within the construction and hospitality sector
The establishment of SSCs is supported by the TVET Sector Support Programme (SSP), which is funded by the European Union and governments of the Germany and Norway. Since 2011, the TVET SSP supports the Government of Pakistan in reforming the TVET system focusing on promoting cooperation between training providers and industry to improve quality of training as well as enhance employability for the youth.
The establishment of SSCs will help to achieve integral partnership objectives like fostering collaboration and exchange of good practices to encourage the expansion of workplace training, exchange of comprehensive labour market information, collaborate in the development of occupational standards and competency-based training programmes to meet priority skill needs in the sector and exchange information and good practices between employers and training providers.
Earlier, representatives of both the economic sectors and NAVTTC signed two separate Memorandums of Understanding (MoUs) at a ceremony held at NAVTTC Headquarters on December 5, 2017.