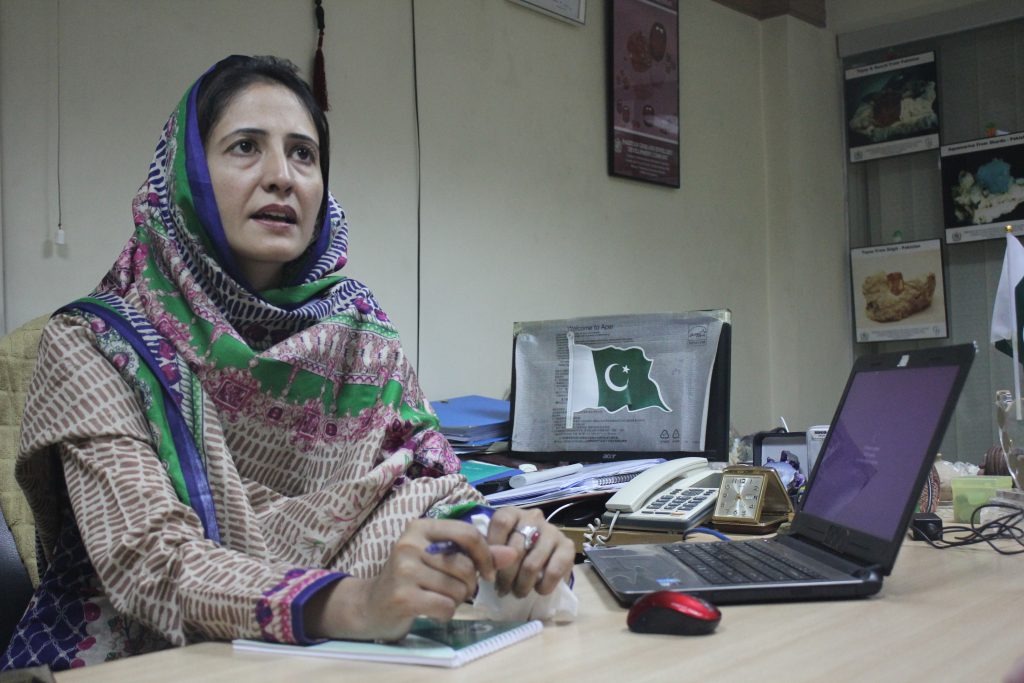 Meeting with a group of women hailing from different areas of Balochistan in her office Sana Durrani Chairperson of Balochistan Women Business Association (BWBA) is a hope for women seeking to start their own business. Optimistically looking in her eyes the women were listening very carefully her words and suggestion to be part of BWBA.
Sana Durrani, also the member of the National Commission of the Assistance for the Women and chairperson of Balochistan Women Business Association has 14 years' experience in the development field and helping women to register their business and work in the formal sector. Approximately 5000 skilled women are registered in (BWBA) and working in three major sectors of Livestock, Agriculture and Handicrafts comprising of Local Embroideries.
"During various natural disasters including Ziarat Earthquake and 2010 and 2012 Floods, I have provided assistance to nearly 50,000 families through different projects and I have conducted 14 exhibitions on the provincial and national level to unveil the artwork of these women they made in their homes," Sana Durrani said while sharing her work experience.
Discussing training programs through Technical and Vocational Education and Training (TVET) Ms Durrani said, "We have trained 500 skilled women in numerous trades with the intention to establish finishing units or start a small business for them."
"Being a Woman Entrepreneur I have my own textile business, I want to yield skilful trained human resource and we have established linkages of 200 women in private market to boost their investment contacts." She added, "As much as TVET sector working in Balochistan has bound in limited courses in terms of women capabilities, unfortunately, we teach them only in Beautician and tailoring fields rather than other vast business opportunities waiting for them."
Stressing upon private sector's involvement in the Technical program at Government or TVET level Sana Durrani said, unless we engage the private sector in these programs yielding all human resource would be useless.
"Skillful people from Punjab in fields of hair cutting, stitching and construction labour are migrated towards Balochistan and it's very important to identify demands from the private sector to train our own people in these fields which could provide employment opportunities for our people."
Despite increases in recent years, female labour force participation in Pakistan, at 25%, is well below rates for countries with similar income levels. Even among women with high levels of education, labor force participation lags at approximately 25% of women with a university degree in Pakistan are working
Terming the major drawbacks of women business culture Sana Durrani said, "There are various issues that refraining women from business field. Illiteracy is the key issue among women in Balochistan because they don't know their basic rights and don't even want to discuss regarding their due share of rights."
"Unfortunately we have no institutes and organizations to provide them training facilities on their door steps making more- tougher for them to start their own business," Ms Durrani said and added awareness raising campaigns and their male support could bless females in Balochistan with business opportunities inside their restricted boundaries.
She added, imperatively we have to get our females in-touch with modern technology, there are multiple jobs of event managements and Human Resources that could be filled with females seeking to commence their career. She acknowledge the efforts made by the TVET Sector Support Programme funded by European Union, Norwegian and German Governments, through which as many as 3,000 men and women will be trained in pertinent skills.
Citing TVET importance in the economic prosperity of Balochistan Chairperson of BWBA said, through courses like TVET is tantamount to the backbone for economic development but unfortunately, we are far behind in both TVET and Private Sectors.
"Lack of Industries and Factories cause major draw-back in development in the province, people are not taking risk of business initiatives in Balochistan, ironically TVET Punjab providing abroad scholarships for 70,000 participants after training course but when it comes to Balochistan there are no international opportunities for trainees."
Urging incumbent regime and politicians she said, our rulers need to be more visionary towards TVET related courses because CPEC is bringing vast opportunities in Pakistan that could enhance more skills among Balochistan's youth.
"Yet we haven't achieved the prime goals for TVET but it's an initial stage and Joint Secretariat is a big achievement where Public and Private Sector have joint coordination for improvement of TVET sector" Sana Durrani added.
This story originally appeared in Balochistan Voices,
Link: http://balochistanvoices.com/2017/09/technical-vocational-education-means-women-empowerment-balochistan/