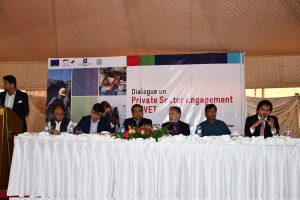 GILGIT, April 11, 2018: Government of Gilgit Baltistan considers promotion of vocational training a priority and will leave no stone unturned to equip its youth with employable skills, Mohammed Ibraheem Sanai, minister for education said this here on Wednesday.
The minister said the incumbent government is taking all possible steps to improve the state of technical and vocational education and training (TVET) in Gilgit Baltistan (GB).
He was making these remarks at a dialogue on private sector engagement, which was organized by TVET Cell of Directorate of Education in collaboration with TVET Sector Support Programme. On the sidelines of the dialogue, a skill gap analysis conducted to identify demand and supply of skilled workforce was also launched.
The minister said that the federal government is also keen to provide financial assistance for improving the TVET system and bring reform in the TVET sector. He also mentioned that earlier the TVET act has also been passed by the Gilgit Baltistan legislative assembly.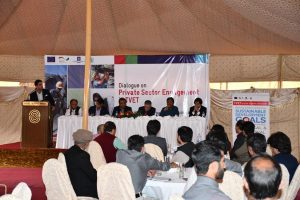 Secretary Industries of GB Muhammed Saleem Rajput while speaking at the occasion appreciated the efforts of development partners for bringing the TVET reform on the agenda; adding that the Chief Minister of GB is keen to promote TVET for the benefit of youth and economic prosperity in the region. He said that his department is willing to coordinate and collaborate with private sector to take the progress on fast track to create more jobs for the graduates of TVET sector.
Mohsin Raza, representative of GB Chamber of Commerce and Industry said that private sector is ready to collaborate for the implementation of demand driven training and receive the efficient trained resource in return. A good number of private sector representatives and trade associations as well as institute officials attended the ceremony.