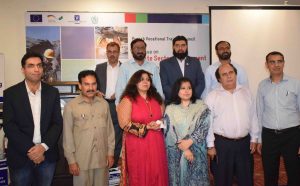 SIALKOT, April 05, 2018: The private-sector is ready to collaborate with the public-sector institutes to provide better employment opportunities for the youth as well as to bring benefits to the industry.
These remarks were made at a dialogue on private sector engagement organized by Punjab Vocational Training Council (PVTC) at a local hotel in collaboration with the Technical and Vocational Education and Training (TVET) Sector Support Programme (SSP), which is funded by the European Union and the governments of the Germany and Norway.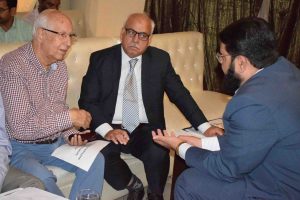 Leading industrialists including Dr. Muhammed Aslam Dar, former President of Sialkot Chamber of Commerce and Industry (SCCI), Sheikh Abdul Waheed Sandal, President of the District Board of Management (DBoM) of PVTC, Sohail Asghar, Vice Chairman of the Sialkot International Airport, Malik Naseer Ahmed, Executive Committee Member of SCCI and others spoke at the occasion.
Speaking at the occasion, the representatives were of the view that TVET holds a prime importance for the industry as trained human resource is the desperate need for the economic production. Countries with better TVET system have various institutionalized mechanisms to ensure participation of the industry in policy, planning, design and delivery of TVET and NAVTTC and other relevant bodies are making significant effort to build such mechanisms.