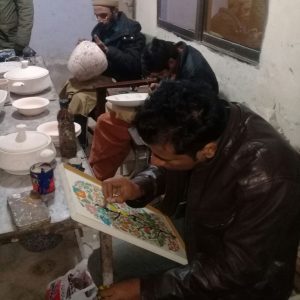 Multan, January 11, 2018: Quality vocational training enables the youth to become a productive part of the overall socio-economic uplift of a country, Martin Kobler, the German Ambassador to Pakistan said here on Thursday. The German envoy said this while interacting with trainers and trainees of Institute of Blue Pottery Development Centre during his brief visit.
The Institute of Blue Pottery Development Centre of Punjab Technical Education and Vocational Training Authority (P-TEVTA) is one of the pioneer institutes, offering Competency Based Training and Assessment (CBT&A), which is a new approach introduced in Pakistan under the ongoing reform in the technical and vocational education and training (TVET) sector. The institute offers vocational training in the fields of Kashigari and Ceramics where more than 35 male and 40 female trainees are enrolled in CBT&A programs. During his visit, the ambassador appreciated the interest of students in the training related to various vocational skills like Kashigari
While briefing to the ambassador, Mr Asif Iqbal the Project Manager of Institute of Blue Pottery Development Centre highlighted the benefits of CBT&A approach and its impact on quality of vocational training. He also lauded the support from TVET Sector Support Programme for assisting the institute in admitting this new training approach and overall capacity building of the institute and its staff.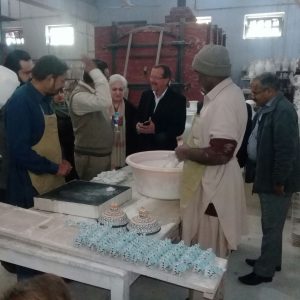 The ambassador opined that the youth in the field of technical and vocational education and training can be source of development of skills sector as well as its sustainable contribution to the growth of country's economy. The Institute of Blue Pottery Development Centre is planning to offer Courses in various trades like Ceramics.
The TVET SSP, which supports the Government of Pakistan in reforming the TVET system, promotes cooperation between training providers and industry to improve quality of training as well as enhance employability for the youth going through various training programmes. The Programme, funded by the European Union and the governments of Germany and Norway, is being implemented by the GIZ in close collaboration with National Vocational and Technical Training Commission, TEVTAs and a number of organizations from public and private sectors across Pakistan.