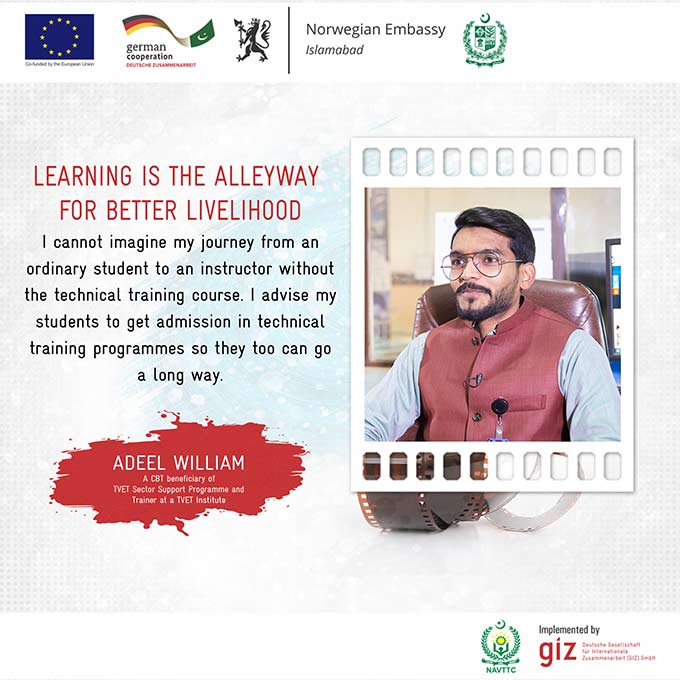 Adeel William
CBT beneficiary of TVET Sector Support Programme and Trainer at a TVET Institute
Hailing from Quetta, Balochistan, Adeel William is from a humble background. He is a CBT beneficiary of TVET Sector Support Programme employed at Pearl Institute as CBT examination officer and trainer.
Adeel William wanted to earn a practical and competency-based skill for earning a better livelihood. Adeel heard about Pearl Institute of technical training and enrolled himself in a 6 months' course of Web Designing. After the completion of course, he received an on-the-job training for a working environment understanding in the industry at the same institute.
Adeel's assessors and employers were so much satisfied with his understanding and practical skills of web designing that they hired him for a position of "Instructor" at the Pearl Institute. He demonstrates that his skills got enhanced while teaching the same course in the institute. Adeel shows his admiration about the practical training in a 6-months course and the same course all over the country in accordance with the international standards of technical and vocational training.
Along with the work, he is also pursuing his bachelor's degree in Computer Science from Virtual University. Adeel express his gratitude for such courses which are means of livelihood for those who cannot afford the formal education after secondary classes.
He cannot imagine his journey from an ordinary student to an instructor without this technical training course. He enjoys sharing his knowledge and expertise with his students. He inspires his students to get admission in technical training programs so they too can go a long way.
Adeel is the beneficiary of TVET Sector Support Programme, which is working with NAVTTC, provincial TEVTAs and PVTC since 2011 for bringing reforms in TVET Sector. The second phase of programme has funding of 62.5 mn euro for implementation of reforms in the TVET sector of Pakistan on national, provincial and regional level. The Programme is funded by the European Union, Federal Republic of Germany and the Royal Norwegian Embassy. In second phase of its implementation, programme is supporting competency-based-training of 36,800 men and women on the indigenous and industry-demand-driven trades. The Programme has been commissioned by the German Federal Ministry for Economic Cooperation and Development (BMZ) and is being implemented by the Deutsche Gesellschaft für Internationale Zusammenarbeit (GIZ) GmbH.