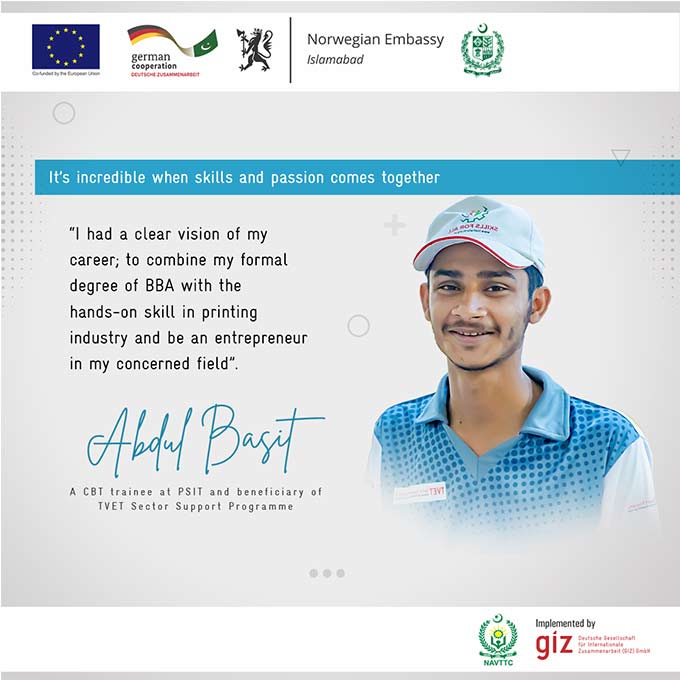 Abdul Basit
Competency-based trainee at Pak-Swedish Institute of Technology (An institute offering CBT courses with the partnership lead of PAPGAI)
Our conventional education system majorly lacks the connection with the industry for preparing a skilled workforce. Most of the students' end-up having a degree yet no hands-on skills which would secure their financial career in practical life. Abdul Basit is one such lucky student who already knew what he has to do while securing his financial and management degree of BBA from Federal Urdu University, Karachi.
Basit is learning a hands-on skill in printing industry. He is enrolled in a six months' course of assistant operator offset printing machine at Pak-Swedish Institute of Technology(PSIT) Karachi. His grandfather was in the same industry followed by Basit's father who is currently employed at Ammara Packages in printing management department. However,Basit has an advantage of modern education along with competency-based skill of printing industry.
He says that I am clear about my future career from the day one that is in the printing industry. Therefore, I decided to learn the practical skills of the industry while continuing my formal education which is also about business management. I shall combine both the strengths to advance in the field of printing industry and one day I will start my own business along with my father who already has a huge amount of experience in the field.
Basit's course comprises of 3 months' theoretical and practical learning at PSIT and 3-months of on-the job training at a reputable printing press in Karachi. He is of the opinion that such interventions like workplace-based training opportunities facilitated by TVET Sector Support Programme along with their partner institutes can be the game changer for economic growth in the country especially regarding the employment opportunities for youth.
Basitis the beneficiary of TVET Sector Support Programme, which is working with NAVTTC, provincial TEVTAs and PVTC since 2011 for bringing reforms in TVET Sector. The second phase of programme has funding of 62.5 mn euro for implementation of reforms in the TVET sector of Pakistan on national, provincial and regional level. The Programme is funded by the European Union, Federal Republic of Germany and the Royal Norwegian Embassy. In second phase of its implementation, programme is supporting competency-based-training of 36,800 men and women on the indigenous and industry-demand-driven trades. The Programme has been commissioned by the German Federal Ministry for Economic Cooperation and Development (BMZ) and is being implemented by the Deutsche Gesellschaft für Internationale Zusammenarbeit (GIZ) GmbH.