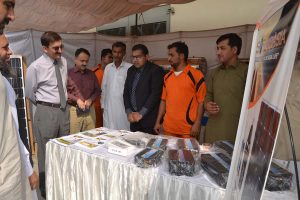 Lahore, October 15, 2018: Hundreds of skilled workers and technicians here on Monday participated in a job fair and got the opportunity to connect with their future employers.
The job fair was organized by the Khyber Pakhtunkhwa Technical and Vocational Education and Training Authority (KP-TEVTA) at Hayatabad Industrial Estate within the premises of Government Advance Technical Training Institute.
More than 30 companies from various sectors had set up their set up recruitment kiosks at the job fair to provide employment possibilities to the TVET graduates.
Air Cdr. Muhammad Amin Khan, Managing Director KP-TEVTA inaugurated the job fair, which was supported by TVET Sector Support Programme, which is funded by the European Union and the governments of Germany and Norway.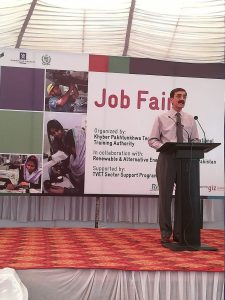 Mr. Tahir Alyana, Project Director Pakhtunkhwa Energy Development Organization (PEDO) recommended having joint training programmes between TVET institutes and private sector organizations.
Mr. Faiz Muhammad, the estate manager of Khyber Pakhtunkhwa Economic Zones Development and Management Company (KPEZDMC) announced establishment of a recruitment desk in Hayatabad Industrial Estate specially for the graduates from Competency Based Training (CBT) Programmes to bridge the gap between job seekers and employers.