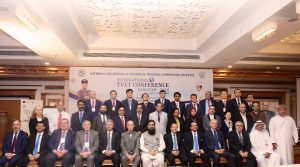 ISLAMABAD, May 3, 2016: A two-day international conference on technical and vocational education and training began here on Thursday with a focus on increasing engagement of industry in provision of employable skills to the youth. Apart from senior government functionaries, , a large number of international experts from over 20 countries participated in the conference organized by the National Vocational and Technical Training Commission (NAVTTC). .
Federal State Minister for Education and Professional Training, Engineer Balig ur Rehman inaugurated the conference as Chief Guest.
The "International TVET Conference 2018" is organized with the support of TVET Sector Support Programme, which is implemented by the Deutsche Gesellschaft für Internationale Zusammenarbeit (GIZ) GmbH in close collaboration with NAVTTC, the provincial Technical Education and Vocational Training Authorities (TEVTAs) as well as various private sector organizations. The Programme is funded by the European Union, the Federal Republic of Germany and the Royal Norwegian Embassy.
Speaking at the opening ceremony Federal State Minister for Education and Professional Training, Engineer Balig ur Rehman said that Pakistan has made remarkable achievements to improve the delivery of the technical education and vocational training (TVET) as present government is committed to equip the country's youth with employable skills.
The federal minister said that besides reducing the unemployment, TVET can play vital role in improving the country's competitiveness adding that commitment of the government can be gauged from the launching of the national TVET policy and Vision 2025.
Speaking at the ceremony, the ambassadors from European Union, Germany and Norway appreciated the efforts of NAVTTC for bringing the reforms in TVET sector with the implementation of the Competency Based Training and Assessment (CBT&A) system.
The Executive Director NAVTTC Zulfiqar Ahmad Cheema speaking at the occasion said NAVTTC, as the apex body, has been implementing the National Skills Strategy with the support of its development partners and a number of stakeholders since 2011.
The conference will offer a platform to promote exchange of best practices, experiences and knowledge within the international and regional context for developing a better TVET system in Pakistan besides creating wider awareness on the TVET sector reform with a view to present it as a national political priority to the international audience.