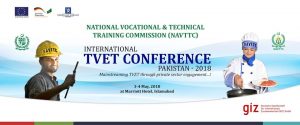 ISLAMABAD, April 30, 2018: A two-day international conference on Technical and Vocational Education and Training (TVET) is being organized on May 3-4, 2018 in Islamabad.
The two-day "International TVET Conference 2018" is organized by the National Vocational & Technical Training Commission (NAVTTC), which will feature participation of delegates from over 20 countries. The theme for this conference is mainstreaming private sector role in TVET.
This international conference is organized with the support of the TVET Sector Support Programme which is implemented by NAVTTC and Deutsche Gesellschaft für Internationale Zusammenarbeit (GIZ) GmbH in close collaboration with the provincial Technical Education and Vocational Training Authorities (TEVTAs) and private sector organizations. The Programme is funded by the European Union, the Federal Republic of Germany and the Royal Norwegian Embassy.
The conference will offer a platform to promote exchange of best practices, experiences and knowledge within the international and regional context for developing a better TVET system in Pakistan. Besides, the conference will also create wider awareness on the TVET sector reform with a view to present it as a national political priority to the international audience.
The participation of the international TVET experts will also pave way to facilitate discussion on creating a permanent engagement within the region. During last 7 years, a number of milestones have been achieved, which has virtually laid down the foundation for a robust TVET in Pakistan.