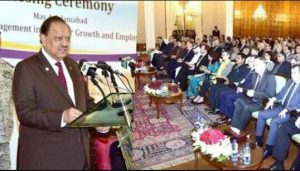 ISLAMABAD, May 04, 2018: A two-day international conference on technical and vocational education and training (TVET) reform in Pakistan with active participation of delegates from 20 countries concluded here on closed on Friday at the Aiwan-e-Sadr.
This "2nd International TVET Conference 2018" was organized by the National Vocational and Technical Training Commission (NAVTTC) in collaboration with the TVET Sector Support Programme, which is funded by the European Union and the governments of Germany and Norway.
President of Pakistan Mr. Mamnoon Hussain was the chief guest of the closing ceremony of this conference apart from the Federal State Secretary for Education and Professional Training, senior management and practitioners from the national TVET agencies, a large number of international TVET experts from various countries participated in the conference.
The conference was organized as a step-forward towards engaging the private sector for the learning of employable skills and appropriate employment opportunities. Earlier at the Opening Ceremony of this Conference held on May 3, 2018 at a local hotel in Islamabad, the ambassadors from European Union, Germany and Norway appreciated the efforts of NAVTTC for bringing the reforms in TVET sector with the implementation of the Competency Based Training and Assessment (CBT&A) system.
Speaking at the ceremony, President Mr Hussain said that "I see the skilled youth as the backbone of this country for the effective human resource management". "Youth trained as per the industry-demand is the only tool for employment, social engagement, coherence, prosperity and well-being", Hussain opined.
Executive Director NAVTTC Zulfiqar Ahmad Cheema speaking at the occasion showed his gratitude for the participation of all the international and national delegations from as many as 20 countries including Germany, Australia, United Kingdom, Ireland, Singapore, South-Korea, Turkey, Sri Lanka, China, Belarus, Malaysia, Qatar, United Arab Emirates, Philippine etc. He mentioned that the exchange of best practices has not only assisted NAVTTC to learn about international TVET trends but has also motivated for various interventions to bring more development in the country.
Executive Director NAVTTC Mr Cheema also mentioned that the support of the international development partners like European Union, Germany and Norway has always been highly significant.