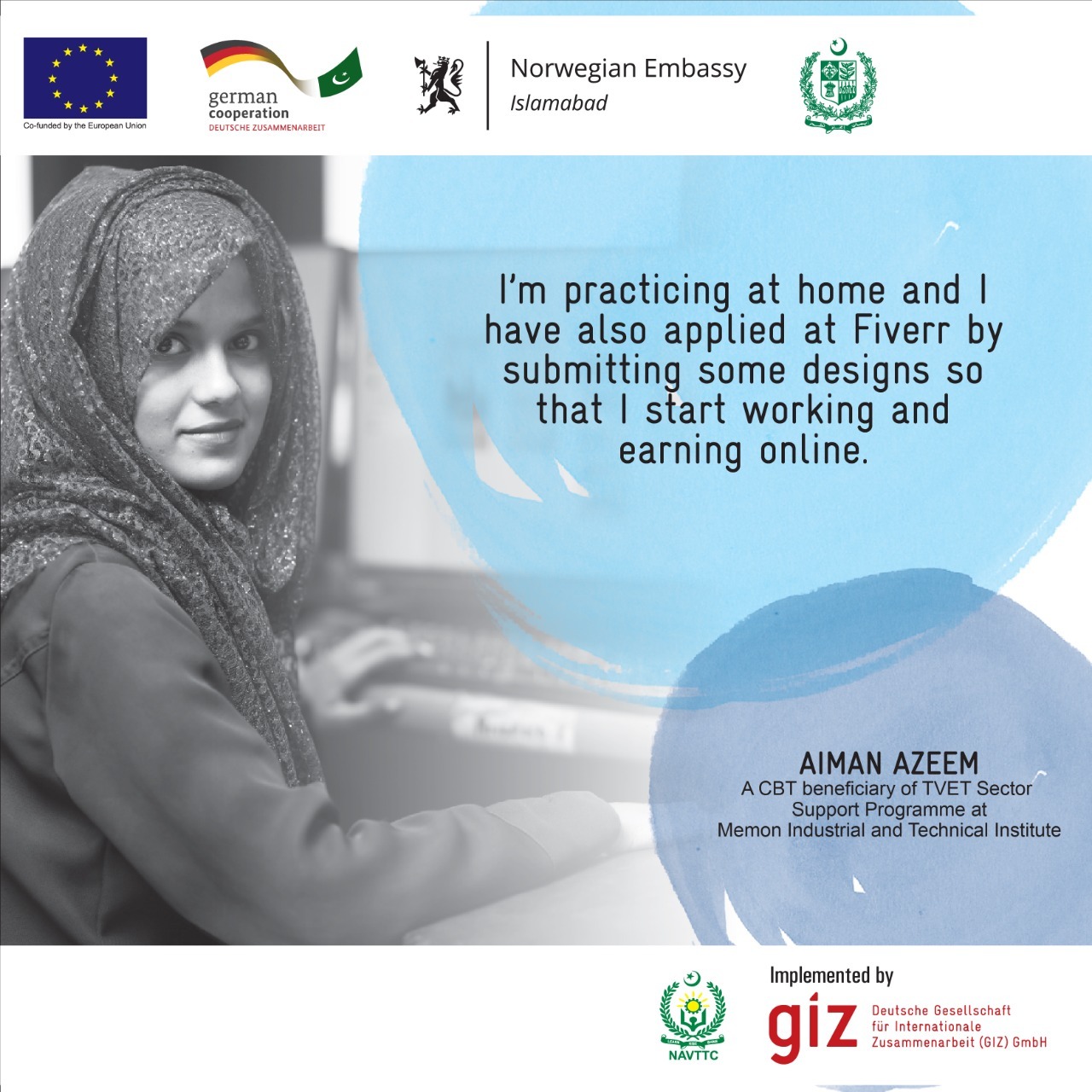 Korangi Karachi's Aiman Azeem might not be able to stand on her feet for longer periods of time due to a hit she had taken because of an accident, but she sure displays the courage of a girl who is determined to find her feet in the practical world. Although, the accident may have dented her physical capacity, but it was not able to penetrate her spirit. Aiman stands firm on her ground to make a name for herself and become financially independent to pursue her dreams.
It was the demise of her elder brother that prompted Aiman to stand up to the circumstances and help her dad bring bread to the table. It was proving difficult for her father to manage the rent of the house along with other expenses. Aiman had done a Computer Operator course but it was not enough for her to get a job and start earning to help her father. In these circumstances all Aiman wanted was an opportunity where she could find her financial independence. And this chance was given to her when she discovered Memon Industrial and Technical Institute.
She completed a six-month long Android Application Development course at MITI with one month on-the-job-training at The Creative Institute. The main reason for Aiman to choose this course was to be able to work online. Aiman says, "I'm practicing at home and I have also applied at Fiverr by submitting some designs so that I start working and earning online". Aiman had got less marks in intermediate than what she had expected. She now believes that once she's able to find her feet again then she would start thinking about resuming her higher studies as well.
Aiman is currently working at a private mobile company and she gives credit to her time spent at MITI. She believes that the course has established her basics and now she's improving further. Aiman cannot sit for longer hours due to her leg injury, that's why she plans to work online from home and attain her financial empowerment.
Aiman is just one such example who is benefitting immensely thanks to TVET Sector Support Programme's delivery model. She's been able to get on-the-job-training for competency-based skills and is now on her way to make a bright future for herself and her family. Like in Aiman's case, TVET is helping in creating employment opportunities for the youth to go out and play their role in the economic development of their country and build a bright future.
Aiman is the beneficiary of TVET Sector Support Programme, which is working with NAVTTC, provincial TEVTAs and PVTC since 2011 for bringing reforms in TVET Sector. The second phase of programme has funding of 62.5 mn euro for implementation of reforms in the TVET sector of Pakistan on national, provincial and regional level. The Programme is funded by the European Union, Federal Republic of Germany and the Royal Norwegian Embassy. In second phase of its implementation, programme has supported competency-based-training of more than 50,000 men and women on the indigenous and industry-demand-driven trades. The Programme has been commissioned by the German Federal Ministry for Economic Cooperation and Development (BMZ) and is being implemented by the Deutsche Gesellschaft für Internationale Zusammenarbeit (GIZ) GmbH.