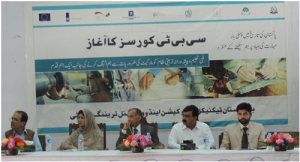 QUETTA, August 19, 2016: The Balochistan Technical Education Vocational Training Authority (BTEVTA) has announced to set up "One Window Cell" to facilitate the trainees and TVTE institutes for smooth implementation of the Competency Based Training (CBT) in the province.
The proposed cell will be managed by the Trade Testing Board Balochistan and to be housed at the Women Technial Training Center, Quetta.
This was announced during an awareness session organized by the BTEVTA in collaboration with the TVET Reform Support Programme for the public and private sector TVET providers at the Government Polytechnic Institutie for Girls, Sariab Road, Quetta here on Friday.
The session was attended by public sector officers, principals, heads of NGOs and donors. The session was followed by a welcome address by Ms. Saeeda Niaz, Principal Govenrment Polytechnic Isntitute for Girls, and a detail presentation and concepts by Mr. Taj Muhammad, Deputy Chairman Trade Testing Board, Quetta. Mr. Bijar Marri from Balochistan TEVTA moderated the session.
The CBT is a method of learning where importance is given to, what a learner can do in the workplace as the result of their training.The CBT is usually based on "performance standards" that have been set by the industry. The introduction of CBT is an important element of the National Skills Strategy (NSS), which is the basis of the ongoing nation-wide TVET sector reform in Pakistan.
The CBT programme provides the basis for the implementation of the National Vocational Qualifications Framework (NVQF), which the government has launched in March last year at a national level. Under this paradigm shift, the training programs are designed and delivered by adopting a systematic approach, focusing on better employability of the trainees with a strong link to the market. The duration of these new special training programmes ranges between 6-12 months. The CBT programme is also being implemented in 130 TEVT on pilot bases.
Dr. Kahoor Khan, Secretary Balochsitan TEVTA elaborated the need of CBT and emphasizedthat the private sector TVET providers to replace traditional curricula with CBT curricula. He further affirm his support that Balochsitan TEVTA and Labour Department is ready to guide and assist the stakeholders in this regard.
Secretary Balochistan TEVTA announced to establish "One Window Cell" of Trade Testing Board Balochistan within the premises of Women Technical Trainign Center, Quetta for students and trainees who are pursuing CBT courses. This one window cell will be dedicated for dealing all the matters of CBT&A.
Speaking on this occasion, he also announced that Labour Department will soon register all the mono-technic institutes of Industries Department having the capacity of launching CBT courses with Trade Testing Board Balochistan and requested TVET Reform Support Program to facilitate the process.