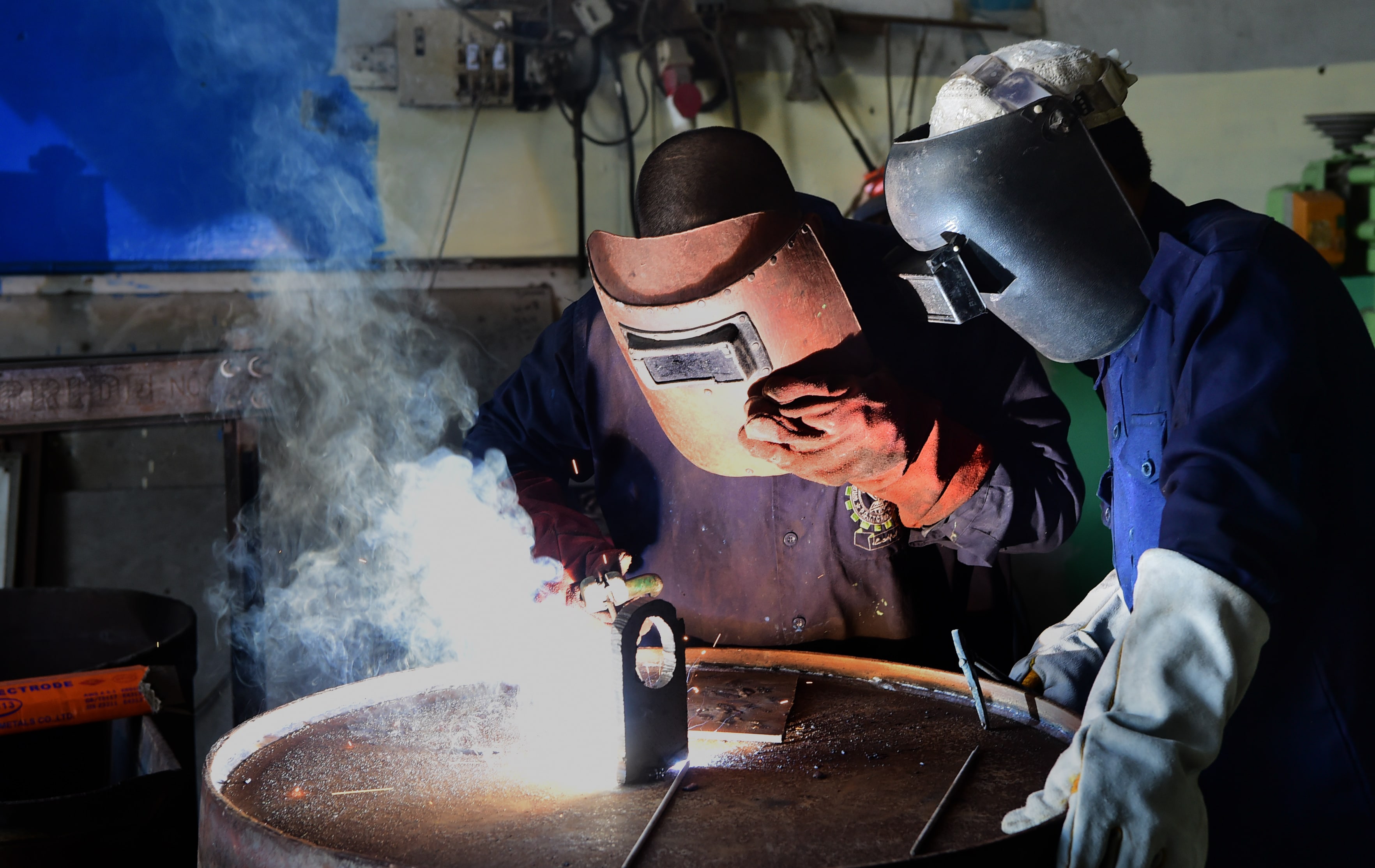 By Sheher Bano
Imam Ali, a trained general electrician, is on-the-job-training (OJT) at the maintenance department of Honda Superpower in a real worktime environment.
"After practicing one phase wiring at the centre, here we are learning the difficult 3-phase electrical wiring. This additional skill will make our job easy in the industry, where this wiring system is used. Not able to afford expensive degrees of medicine or engineering, this skill training is mandatory for us" says Imam, a beneficiary of a special training fund, constituted to equip youth with employable skills.
Coming from Jahanabad, Hub Chowki, 4-5 km away from the enterprise, Ali is a son of a disabled father and wants to contribute to the family income along with his brother who is a shop labour here.
Similarly, Waleed is another trainee doing OJT in the general electrician in Honda Superpower. His two elder brothers work as fisherman to run the house. Learning industrial wiring here, he intends to complete other levels too to secure a better employment to help his retired father.
"Having six trainees, two in general electrician and four in welding, we intend to provide jobs too. Pak-German TTC should merge Level-II and Level-III of General Electrician course to teach domestic and industrial electrical wiring," says Tariq Jawed, General Manger HR & Admin, Honda Superpower.
Sajjad, enrolled in one-year machinist course at the centre has done Diploma of Associate Engineer (DAE) too from Karachi.
"Even in DAE, they didn't focus on the practical aspect. In eight months, I have learnt far more than what I had learnt from my DAE course. The students practice tool grinding, turning and tapering jobs on separate machines and then make tools according to the market demand," maintains Sajjad.
Shabbir Memon, a B.E mechanical, In-charge Safety and Deputy Manager, Machine Shop, BCL, says no internee is allowed to work without wearing safety gears. However, they need more time to understand the process and working of heavy machines. A trained machinist can match the qualification of a BE mechanical."
Another trainee at the same institute, Gohram, 21, studied till intermediate and is doing Machinist course at Pak-Germen TTC. Coming from Orangi Town Karachi Gohram after his training at the institute goes to Fisheries, Karachi to supply hand-made baskets to the fish vendors till midnight. He earns Rs 1,000-1500 daily."
Owais Qadir, 18, after completing welding course from the centre is doing OJT at Balochistan Wheels. "I along with my elder brother earn Rs 1,000-1,200 per day by running a paan shop in the evening in Faqeer Colony, Orangi Town as our father is jobless. After the course, I will join a friend at a Gate Jali factory in Orangi Town to get more perfection after which I will try to go abroad."
All these stories reflect the demand and importance of skilled trainings in Hub and adjoining areas, situated at the border of two largest provinces of Pakistan, Sindh and Balochistan. Pak German TTC, Hub working under the Directorate of Manpower and Training, Government of Balochistan, alone cannot meet the burgeoning demand of skilled force in the area.
Ashraf, In-charge machine shop (mechanical work) at the centre says: "We receive trainees from Pirkas, Vinder, Lasbella, Uthal, Godam and even Karachi."
"These trainees will be preferred over fresh grads. Around 150 active factories in Lasbella are in need of skilled manpower and such courses are the need of hour," concluded Abdul Rauf, General Manager, BCL.