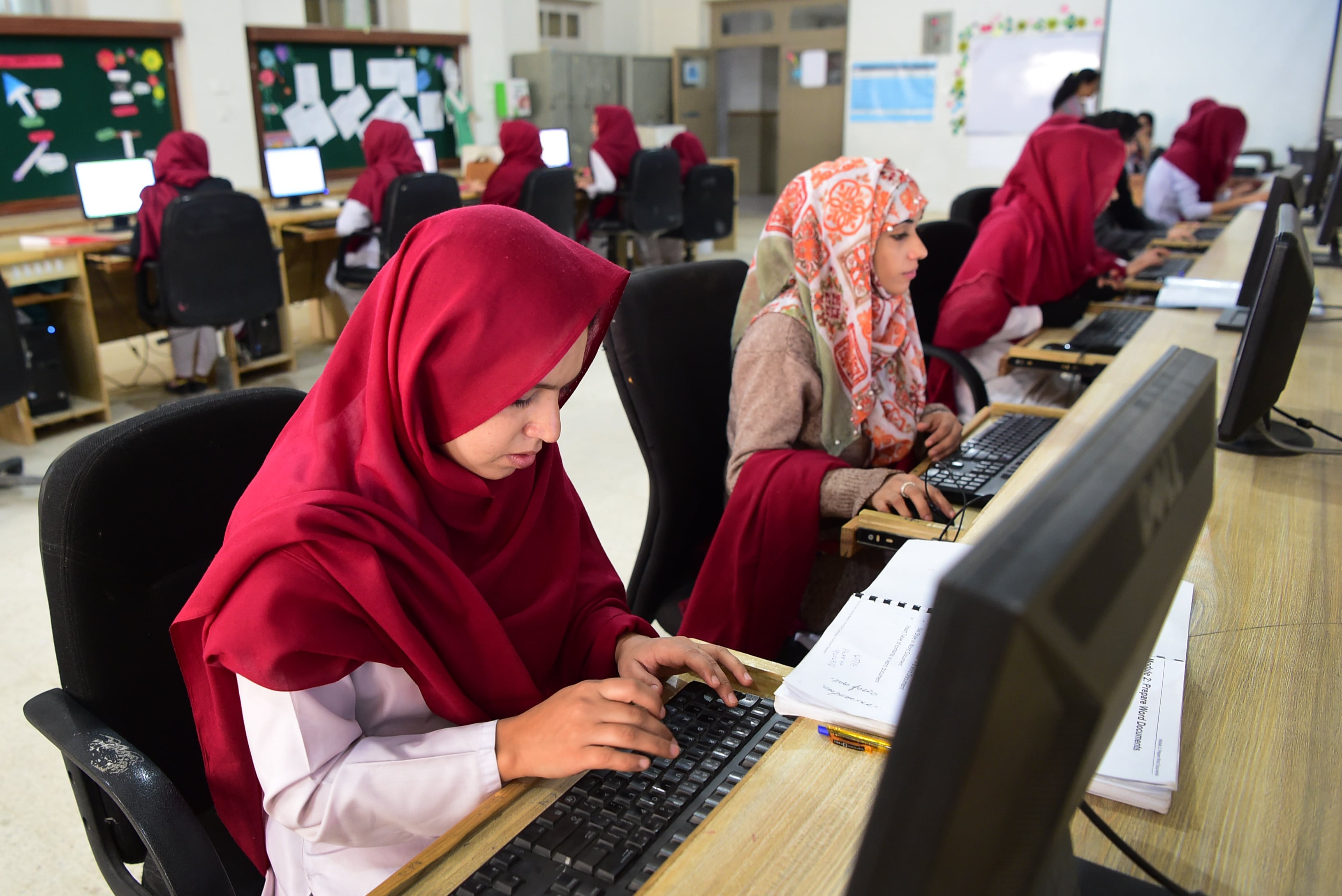 By Sheher Bano
Situated in the southwestern region of the country, Balochistan is the largest province of Pakistan in terms of land area. The 2017 Census shows that female make 47.5% (5.86 million) of the province's total population (12.34 million). An estimated 2.3 million boys and girls are out of school, 1.1 million children can receive primary education and only half of them continue their education after matriculation because of poverty, which affects at least 52% of the people.
In this challenging situation, the technical courses under a special training fund for Sindh and Balochistan, which was set up by the TVET Sector Support Programme, funded by the European Union and Germany and Norwegian governments, come as a wave of fresh air.
The Women Technical Training Centre (WTTC), Jinnah Town, Quetta, is offering courses in three trades vis-a-vis Computer Operator, IT Office Assistant and Professional Cook, under the cooperative training mode of CBT (Competency Based Training), with 4-month institutionalized training and 2-month on the job training (OJT) at the enterprises.
Mahrosh is one of the 20 fund beneficiaries, who is enrolled in IT Office Assistant course at the centre. While doing her two months OJT at P & D Department, she got a job as IT Instructor in a school of the area. "My knowledge of computer which I learnt at the WTTC brought me this job".
Coming from Wahdat Colony, Barori area, an hour travelling from the centre, she spends Rs 3000 on transport out of the total earning of Rs 7000 from her teaching job. "I will continue higher level of IT Office Assistant course. Reaching to the post of an Office Manager and supporting my father who earns only Rs 15000pm from his government job, is my ultimate target," asserts 22 years old Mahrosh, with a glint of hope.
An equal motivation to change life brought Nadia, a married woman with three children, in the IT Office Course at WTT. To support her motor mechanic husband who earns Rs 25,000pm, drove her grit. "After paying Rs 11,000pm in house rent, we hardly have money for good education of children. With a simple BA degree, I was completely computer illiterate, but learnt a lot during the course. The competency-based model of this training is based on inculcating skill, attitude and knowledge. An internship at Pearl Institute smothered further rough edges of our skills besides giving the real feel of the industry's environment," she maintained.
"The girls are in the age group of 18-35 years. Four girls, who had done their computer and office assistant courses, have already got a job. In total 12 of our girls of IT office Assistant and IT computer operator have got the jobs," informs Shabnam Naz, the principal of WTTC, Quetta.
"This is the spark we have brought to these students," says the IT instructor Fauzia Jogezai, while commenting on the passion.