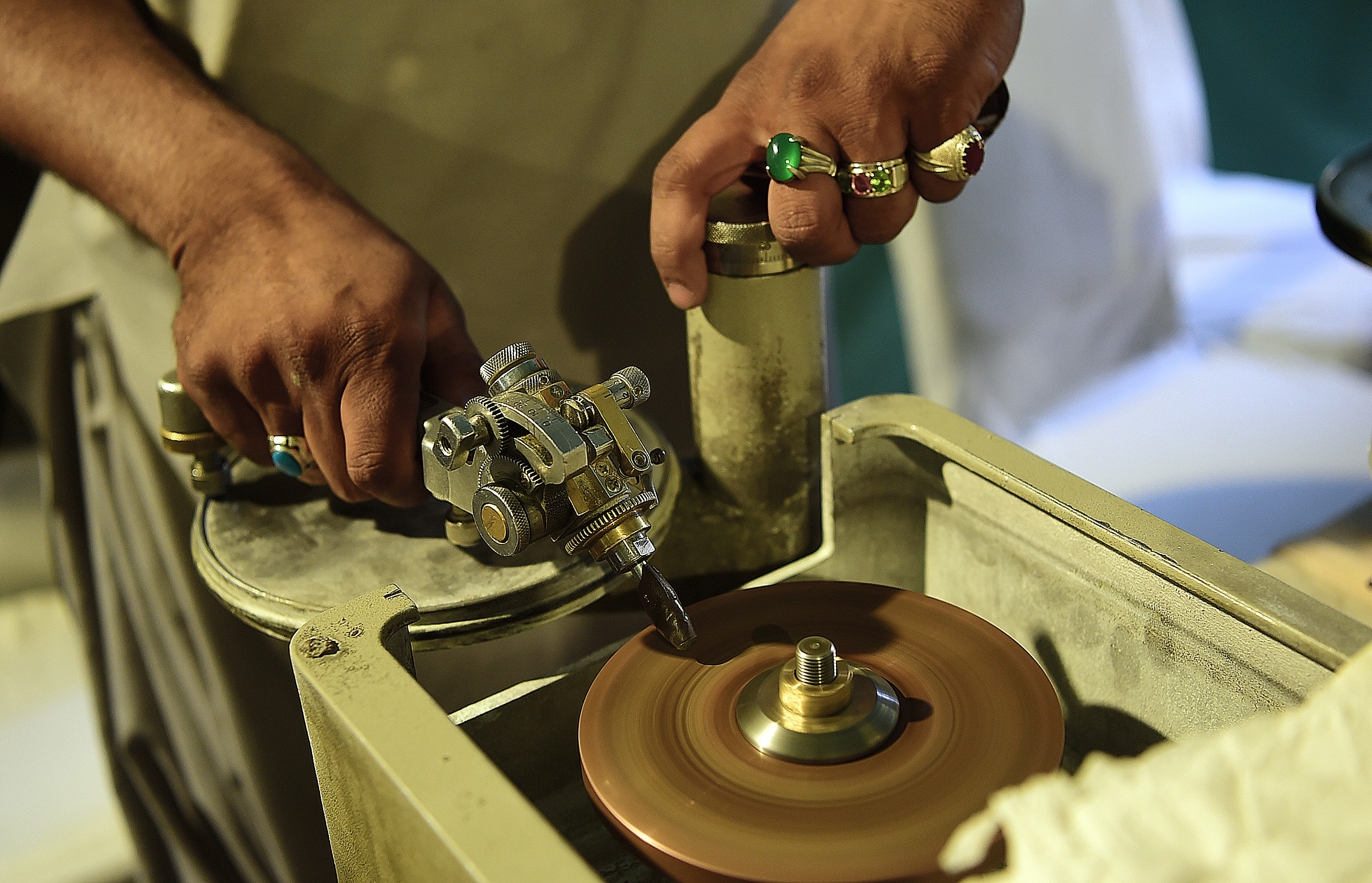 By Sheher Bano
The 26 years old Jahanzeb, a victim of childhood polio is pursuing a Master's degree in Quetta. He has done multiple skill courses and is also learning shorthand in the mere hope of getting a job as a stenographer. "I have also done a one-month course in bomb disposal." Why bomb disposal? "For life security it is also required," he said smilingly.
A trainee of the Gems & Jewellery Training and Manufacturing Centre (GJTMC), Quetta, Jahanzeb faces difficulty in walking with a stick and LFO, which has an attached synthetic shoe sole, to balance the different length of the two legs. But Jahanzeb as an optimist to the core, had set up a stall at the "Gems and Jewellery Exhibition and Skill Showcasing", held at Serena Hotel, Quetta, with the joint collaboration of Pakistan and Gems and Jewellery Development Company and Serena hotel.
There were around 38 exhibitors from around the country along with GJMTC students' stall in the exhibition which was meant to provide a platform to connect the trainees of GJTMC with the market and the business community and showcase their skills and products.
"I have undergone eight operations for my leg, which is shorter than the other. I applied on disabled job quota too, but all in vain. After failing to secure a job, I registered myself in GJTMC, where I am learning faceting, cutting, shaping and polishing of gemstones. In faceting we are told about the index and angles of a gemstone. I intend to do gemology course from the same institute. After the training we can do job or start our own business and support our families," says Jahanzeb.
GJTMC, Quetta, a project of Pakistan Gems and Jewellery Development Company, Ministry of Industry and Production, Government of Pakistan, offers courses under CBT (Competency Based Training) through a special training fund for Sindh and Balochistan, which was set up by the TVET Sector Support Programme, funded by the European Union and Germany and Norwegian governments. The objective of the fund is to facilitate the training of 18,000 men and women in Sindh and Balochistan for the labour market.
The centre has a total of 100 trainees, of which 25 are females. "Out of total 25 females, 24 are in Fashion jewellery designing while one trainee is enrolled in Gemology class," says Bashir Agha, Principal of GJTMC and Project Coordinator of the Training Fund Program.
While pointing towards the expensive faceting machine, on which he was working, Jahanzeb said: "This machine costs Rs 100,000-150,000, while a complete faceting unit costs Rs 4-5 lakh. This machine is not available at any other place in the province except this institute. The principal has allowed us to do our private work here after we complete our course. If I get a machine of my own from the centre I will open a shop and will start my own work."
Jahanzeb doesn't want to fail in life. "I want to be a motivation for normal people and want to tell them that if I can do all this despite my disability then they can too," he said with an aim in his eyes.