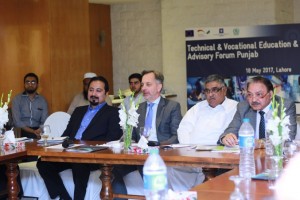 LAHORE, May 18, 2017: Better employable skills and improved Technical and Vocational Education Training (TVET) is only possible through active involvement of private sector and close collaboration with public sector; leading towards economic prosperity. This opinion was developed in the first meeting of the Punjab TVET Advisory Forum, organized here on Thursday.
The forum was organized by the TVET Reform Support Programme, which is funded by the European Union, the Federal Republic of Germany and the Royal Norwegian Embassy, implemented by the Deutsche Gesellschaft für Internationale Zusammenarbeit (GIZ) GmbH in close collaboration with the National Vocational and Technical Training Commission (NAVTTC) as well as provincial Technical Education and Vocational Training Authorities (TEVTAs) and private sector organizations.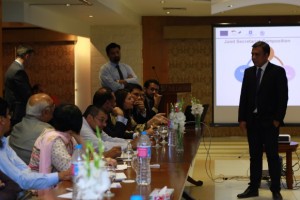 The forum will serve as a platform for the stakeholders from public and private sectors to improve collaboration through advocacy & awareness, provide strategic guidance regarding the implementation of the TVET reform, discuss policy issues and make the recommendations for improvements of the TVET sector. Participants agreed on the constitution of the forum as well as the terms of reference and showed interest in the scope having such forum in-place.
Mr. Hans Ludwig Bruns, Head of Programme TVET Reform Support Programme while opening the session shared the outcomes achieved in the first phase of TVET Reform Support Programme and shared a detailed prospect of the second phase of the Programme.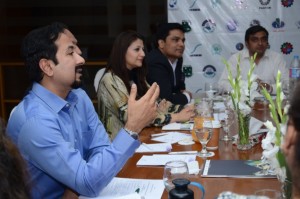 Office bearers and senior representatives from All Pakistan Business Forum, Chamber of Commerce and Industry Lahore, Faisalabad, Gujranwala, Sialkot; Punjab TEVTA, PVTC, SMEDA, PBTE, TTB and Associations of Footwear, Automotive, Freight Forwarders and other organizations participated in in the forum. They supported the idea of formation of forum, which will help in advocating the implementation of National Vocational Qualifications Framework (NVQF) and reform in TVET sector.
The participants termed it as a key landmark achieved for the economic development goals of the province.
The forum will envisage advocacy to promote paradigm shift of the traditional methods of training and vocational education to Competency Based Training & Assessment (CBT&A); where Recognition of the Prior Learning (RPL) will also help in promoting the validation of skilled workers from informal sector.