By Sheher Bano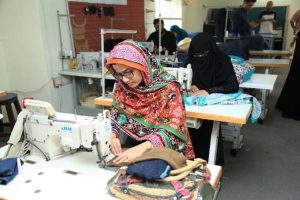 The smiling and ambitious Maham Nasira, Principal of Pakistan Readymade Garment Technical Training Institute (PRGTTI), is a graduate of College of Home Economics, with her majors in Clothing and Textile. Situated on the main Shahra-e-Faisal Karachi, the Institute is the training wing of Pakistan Readymade Garments Manufacturers & Exporters Association (PRGMEA). The institute is affiliated with STEVTA & TTB. Equipped with modern stitching machines used in the industry, PRGTTI is offering National Vocational Qualification (NVQ) Level-II courses including Pattern Cutting & Grading, Customer Services & Sales Executive, Logistics and Supply Chain, Stitching Dress Making, and NVQ Level III courses include Fashion Designing, CAD/CAM Operators and E-Commerce. The institute is running in two shifts, with a total of 118 students, of them 40 come in the morning session and remaining in the evening shift.
The courses are part of a special training fund for Sindh and Balochistan, which was set up by the TVET Sector Support Program, which is funded by the European Union and the governments of the Germany and Norway in order to prepare young people for the labour market. The fund supports training institutes to develop and provide tailor-made programmes for enterprises. The objective is to facilitate the training of 18000 men and women and assist them in finding employment after graduation. The Institute is loaded with the orders from within the industry, since they have started courses, under their tagline "Skills for Employment in Readymade Garment Industry".
"Focusing the labour intensive areas of Korangi, Landhi, SITE, Baldia, Orangi Town and Shah Faisal Colony, Mehmoodabad, Sadder, Baldia Town, Gulshan-i-Iqbal, F B Area, Gulistan-i-Jauhar etc, we arrange decent employment for the trainees and provide skilled workers to the industry," says Maham. "We encourage girls who either want to continue their jobs or earn by doing work from their homes to add to their household earnings."
"Though we might not get permission to work in any factory, but we both will start our own work at home to support the family," says trainee Hifiza Ambreen, an intermediate student, and her sister Farnaz Fazal. Ambreen after this course intends to join Pattern Cutting course, a trade which is currently in high demand in the industry.
Then there are girls like Rahila Alvi, who has done her DAE Electrical but is now trying her luck in Dress Making. "Of the total nine sisters, two of us are coming here and soon our youngest sister will also join Stitching course. After the course, I will first do job in some boutique and then we all will open our own boutique," says Rahila.
Since the Institute is a co-education, it didn't come as a surprise to see young men enrolled in dressmaking and stitching course, they inspire to start their tailoring shops. "Many students in this course stitched Eid dresses of their families as a practice," says Maham. "Our students enrolled in E-commerce have made a web store "Bazar Saat din" where they take orders and deliver them within 5 hours," Maham informed with a sense of pride.
Maham intends to start a project of washing plant as training facility at the institute. "InshaAllah within six to eight months we will be offering training courses in Denim washing as in denim, value addition can only be achieved through various modern washing technologies."
Her next step is to start footwear technician course under TVET SS Programme. "No formal training of footwear technician is offered anywhere. Pakistan imports shoes from China and other countries, which are not only expensive but do not suite our climate, taste and needs. Our girls are already learning denim bathroom slippers as a hobby. Our target is to train our students to make export quality shoes, slippers and sandals."
Maham suggests a review of Footwear course syllabus. "The course is not in conformity to the local climate and taste of the Pakistani consumers. For example, there is no mention of our leather "khussa" "saleem shahi sandal" "peshawari chappal" "khairee" a Baluchi special men slippers and ladies colourful seasonal chappals and sandals," she concluded.