By Sheher Bano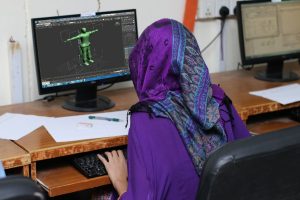 Situated in the jurisdiction of Malir Police Checkpost # 6, D 4 Design outlet, is giving on-the-job training (OJT) to seven bright girls who were enrolled in the competency-based AUTO CAD course at Vocational Training Institute (VTI), Buffer Zone, located in the central part of Karachi, called North Karachi. The outlet deals in designs of furniture including parlor furniture, interior and exterior designs of houses, and also construction and development.
Muniba, who lives in North Karachi, is one of these seven girls from VTI, Buffer Zone, who after completing their five months institutionalized training are now doing their internship or OJT at D4 Design outlet.
"Though I wanted to do a course in IT Admin, but I was selected for AUTOCAD. Our trainer counseled me for the importance of this course. Despite having no prior knowledge, I am confident that I can move forward in this course."
Muniba believes in the adage: "when the going gets tough, the tough get going". The life was comfortable for her with a family of six people, comprising two sons, two daughters and parents. She was doing her BS in Commerce from Jinnah University, when her father who was a driver in a consumer product company, suddenly died. Muniba chose survival of the family over her own desire to get higher education. She left her BS incomplete and started a teaching job in a school, for mere Rs 4000. Soon she got to know about a free course at VTI Buffer Zone, through a friend who was already enrolled in a course under PM Skill Development Program. Muniba got herself enrolled in this course.
All the courses which are being taught at various technical institutes of Karachi, are given under a special training fund for Sindh and Balochistan, which was set up by the TVET Sector Support Programme, funded by the European Union and the governments of the Germany and Norway in order to prepare young people for the labour market. The fund supports training institutes to develop and provide tailor-made programmes for enterprises. The objective is to facilitate the training of 18, 000 men and women and assist them in finding employment after graduation.
"I think the course will help me in seeking better career in future," 25-year old Muniba implies while working on a 3-D Max Studio model project. Her OJT is part of fund's objective to encourage training institutes and enterprises to link theoretical with practical training at the workplace.
Starting from scratch as a painter, Israr Adnan the owner of D 4 Design has high hopes with these girls. "I have dedicated a teacher to make them excel in the commercial demands of interior and exterior décor, which will help them find better opportunities in the commercial sector, says Israr."
All these girls, in their twenties, coming from various parts of Karachi, have different stories to tell. As the aerobic trainer-cum-herbalist Beena Asghar, who now wants to explore interior and exterior deigning through AUTOCAD course, puts it simply. "My father is jobless, but I was not able to contribute much to the family income, through earlier skills I acquired. The innovative training approach of this course has elevated my confidence, besides sharpening my communication skills. The competency based skill model of these courses has developed our competency for the skill we have acquired. And I have a way to go," she says with a dint of smile on her beautiful face