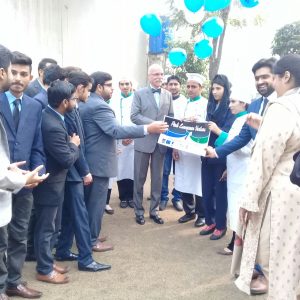 Faisalabad, January 23, 2018: The ambassador of European Union (EU) to Pakistan Mr Jean François Cautain underlined the importance of technical education and vocational training (TVET), saying a better TVET system can equip millions of youth with employable skills.
He said this while visiting the Institute of Tourism and Hospitality Management (ITHM), Faisalabad is offering Competency Based Training and Assessment (CBT&A) courses to men and women of the area. ITHM is one of the vocational training institutes in Faisalabad which is supported by TVET Sector Support Programme, funded by the European Union and the governments of Germany and Norway. The Programme is being implemented by the GIZ in close collaboration with National Vocational and Technical Training Commission, TEVTAs and a number of organizations from public and private sectors across Pakistan.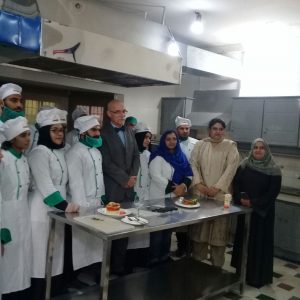 The ITHM is one of the renowned institutes in hospitality sector, offering CBT programs. The institute offers vocational training in the fields of hospitality industry. .During his visit, the ambassador appreciated the interest of trainees in the training related to various vocational skills like culinary training
While briefing to the ambassador, Ms Qurat ul Ain, Program Director of ITHM highlighted the significant changes and improvements happening in the hospitality sector because of the latest vocational training trends.
The ambassador commended the progress in the reform process and hoped that it would help laydown a solid foundation for a better system in the province.