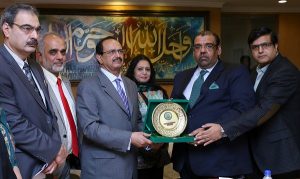 KARACHI, January 29, 2018: The National Vocational and Technical Training Commission (NAVTTC) and the Federation of Pakistan Chambers and Commerce and Industry (FPCCI) here on Monday agreed to establish a partnership for the promotion of the first ever national policy on technical and vocational education and training (TVET).
A memorandum of understanding (MoU) was signed to this effect at the MoU signing ceremony held at Federation House of FPCCI, supported by the TVET Sector Support Programme, funded by the European Union and the governments of the Federal Republic of Germany and Norway.
NAVTTC Executive Director, Zulfiqar Ahmad Cheema and FPCCI President Ghazanfar Bilour signed the MoU on behalf of their respective organizations in order to highlight the skills development discourse in the country. Agreeing that human capital is one of the country's great assets; the organizations maintained that highlighting the same to policy-makers and employers the importance of skills development for the growth of the national economy, participation in the international labour market and the achievement of social policy goals is one of the significant factors for the economic prosperity of the country.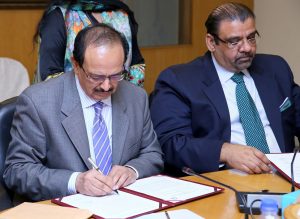 Speaking at the occasion, Mr Cheema said that this memorable occasion would mark as the beginning for the development of long-term strategies to bring more industries on board for the training institutes in order to create better job opportunities for TVET graduates. He said that in principle, NAVTTC and FPCCI share the objectives of developing quality skills for Pakistan through supporting workplace-based training.
FPCCI President speaking at the occasion said that private sector is ready to come forward for the betterment of the youth of the country while quoting the skilled youth as a real asset for the country; adding that, TVET is the only way forward for socio-economic development in Pakistan.
He further said that FPCCI is ready to facilitate NAVTTC and other stakeholders for promoting the agenda for TVET and would facilitate in bringing about reform in the TVET sector of the country.
This partnership was supported by the TVET Sector Support Programme, which supports the Government of Pakistan in reforming the TVET system, promotes cooperation between training providers and industry to improve quality of training as well as enhance employability for the youth going through various training programmes.