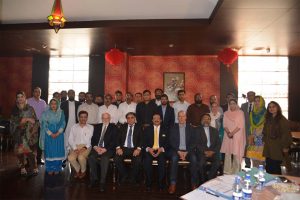 ISLAMABAD, April 16, 2018: National Vocational and Technical Training Commission on Monday launched a special training to improve management skills of head of technical and vocational education and training (TVET) institutes across Pakistan.
The training programme is supported by the TVET Sector Support Programme, which is funded by the European Union and governments of the Germany and Norway.
Speaking at the inaugural ceremony of the training programme, the Executive Director of National Vocational and Technical Training Commission (NAVTTC) Zulfiqar Ahmad Cheema has underlined the importance of quality teaching methods as integral to better employment prospects for the learners in vocational training.
"Better quality of training leads to better job opportunities and the instructors has a major role to play," he said.
Technical and Vocational Education and Training (TVET) Institution Management Training (TIMT) is organized in collaboration with the TVET Sector Support Programme. The TIMT is part of the ongoing TVET sector reform in Pakistan, through which at least 500 principals and head of TVET institutes from public and private sectors will be trained on management of their institutes.
Mr. Cheema said that principals and teachers have a great role to play for equipping the trainees with better and modern skills and ensure that the message for skill development is spread all over. He opined that the liaison between public and private sector is a must for every institute and this industrial linkage would be beneficial for provision of better employment opportunities for the TVET pass outs.