By Sheher Bano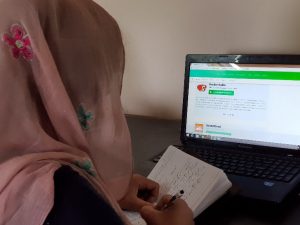 Established in 1981, the Government College of Technology, for Girls (GCTG), Karimabad is the pioneer technical training institute of Karachi, imparting Diploma of Associate Engineers (DAE) in various disciplines to the female youth of Karachi. The first Technical College for girls in Sindh Province, the Institute's Alumni are currently serving at various positions in renowned public and private organizations of the city.
When the Competency Based Training (CBT) courses were offered under a special training fund for Sindh and Baluchistan, which was set up by the TVET Sector Support Program, by European Union and the Germany and Norwegian governments, the GCTG Karimabad initially applied for four courses including IT Office Assistant, IT Computer Operator and Cook, as previously this college was awarding only 3-year DAE diploma. The fund supports training institutes to develop and provide tailor-made programs for enterprises with its core objective to facilitate the training of 18, 000 men and women and assist them in finding employment after graduation.
The girls from adjoining areas of Liaquatabad, Buffer Zone, Yousuf Plaza, Azizabad, Karimabad, Nazimabad, Martin Road, North Karachi, F B Area, Gulistan-e-Jauher, Gulberg etc, applied in hundreds. Of them 20 girls in each trade were selected.
Rehana Aijaz, Principal of the Government Technical College Karimabad and Project Coordinator of the TVET Sector Support program at GCTG, had every reason to celebrate the success of her trainees who were now completing their on-the-job-training (OJT) at various prominent partnering enterprises.
"It was a challenge for us to opt for these short courses, as the institutes never did it earlier. But there were many students who after doing graduation in general education were jobless. As soon as they took up these skill development courses, many were offered jobs in various offices, a result too unexpected for us," says Rehana.
She said that the trainees of these courses hailed from low income houses and couldn't afford expensive training. "A simple cooking/chef course at any commercial culinary institute will cost them around Rs 100,000-Rs 200,000, while under TVET SSP it is free of cost."
"We arranged guest lectures, industry visits, and entrepreneurial sessions on self-employment for the girls. Doing internship at prominent enterprises, the girls have been exposed to real office environment. And they got to know about multiple options available to them. Many of them have already been offered jobs," informed Sheher Bano, the Industrial Coordinator of GCTG Karimabad.
"OJT has changed our earlier concept of office environment. After doing OJT for three weeks here at The News International, one of the biggest media houses of Pakistan, I would like to work in some office now, instead of only doing teaching which was considered as the only profession for girls by my family.," says Lubna Nazeer, a trainee of National Vocational Qualification (NVQ) IT Office Assistant Level-II Course.
Aqsa Shaida, an intermediate student and a resident of North Nazimabad, is doing OJT at a five-star Mehran Hotel situated at Shahrah-e-Faisal. "So far, we have worked in Pakistani kitchen, Bakery and Ala Carte and will further work in Chinese and Continental kitchen. In case I don't get permission to work in a hotel from my father, we all friends, who are doing OJT here, have a plan to start small business of providing food from home to various offices, as we were given entrepreneurship sessions during our course work. The competency-based model of these courses of learning by doing has given us excellence in our work," she implied.
However, culinary craft still remains a less treaded path. "Parents feel hesitant to allow their girls to work as chef in any hotel. Cooking and hospitality comes natural to girls, but they don't take it as a profession. They join courses and sit at home. I have yet to see a female senior executive chef at any big hotel, the post is usually held by men, a great untapped potential for women," says Shaheen Kamran, Manager Learning and Development, Movenpick Hotel, where four girls of GCTG Karimabad are doing OJT. "There is need to change the mindset of people about hotel jobs," she concluded.