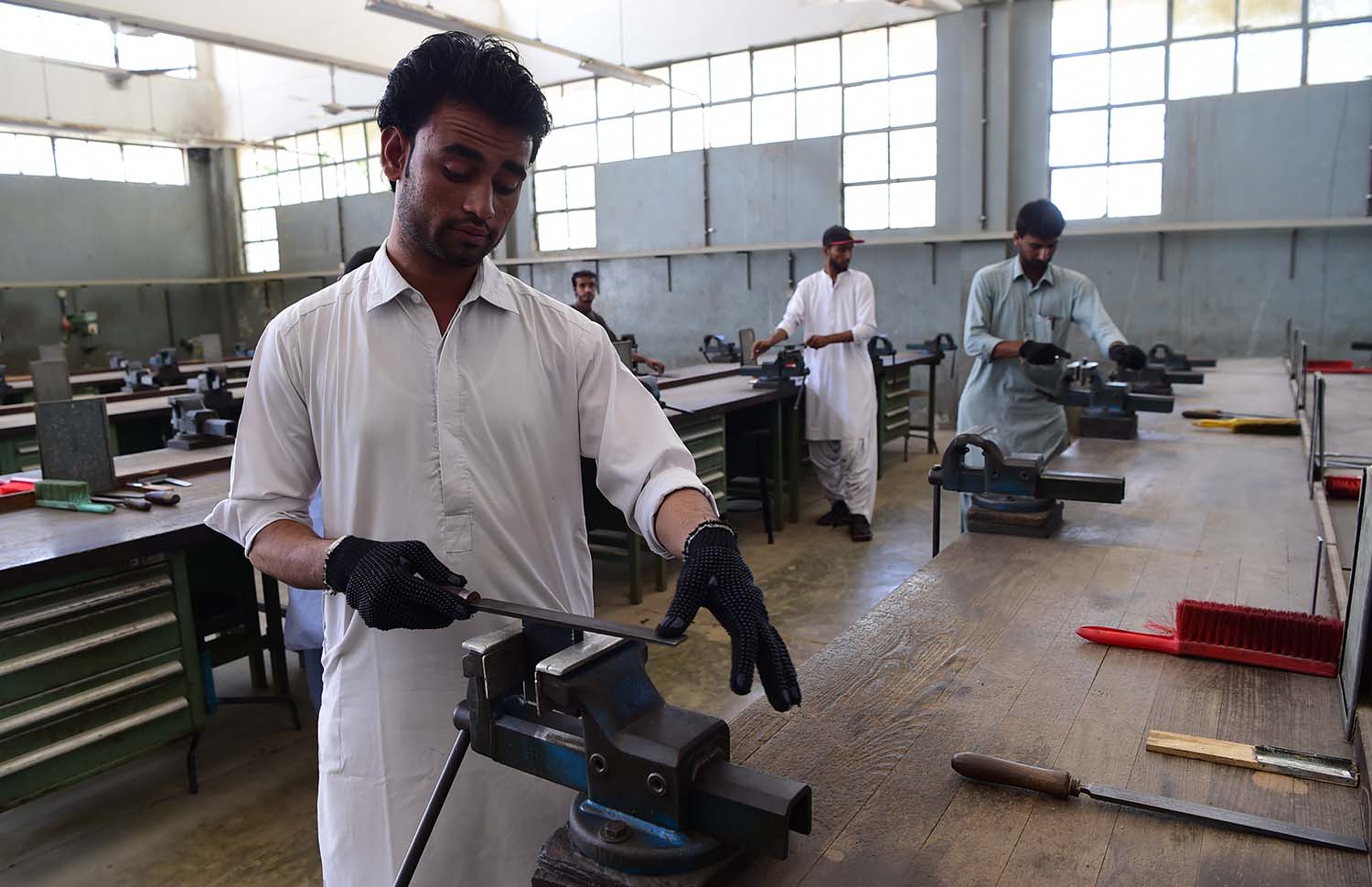 By Sheher Bano:
Working with a welding rod emitting a heat of 150 degree centigrade, Gul Hasan was trying to learn industrial welding, as part of his on the Job Training (OJT) at the welding department of Bolan Castings Limited (BCL), a private company operating in Hub, Balochistan.
It is said that a welder possesses the hands of a surgeon, the mind of an artist and the steady hand of a sniper. With these rare skills set, which makes his hands and clothes dirty, Gul Hasan is one of the beneficiaries of the TVET Sector Support Programme, who was enrolled in the 6-month welding course at Pak-German Technical Training Centre, Hub, Balochistan. He is now doing his OJT at Bolan Castings, after completing his institutionalized training.
Son of a laborer father, the 18 years old trainee, a resident of Hashim Goth, which is five kilometers from the institute, travels via bike to reach institute or the enterprise. Having studied till matric, Gul Hasan is on the second number among his six sisters and two brothers.
"I had learnt flat welding and vertical welding at the centre. Before inducting me as an intern here for the welding job, they took my test, which I cleared. I am also using gas cutter for welding, which I learnt at the enterprise only. Seeing the high skilled tasks here, I think the internship should be of at least 6 months, as there is a lot to be learnt here."
Working with a slogan "safety is a habit", Bolan Castings Limited (BCL) is the leading foundry of its kind in Pakistan, holding a major market share of the tractor and automotive castings. The plant is located about 40 Kms from Karachi on the main R.C.D. Highway, Hub Chowki, District Lasbella, Balochistan. BCL manufactures grey and ductile iron castings mainly for Tractors and Trucks/ Buses.
Pak German Training Technical Training Centre, Hub, working under the Directorate of Manpower and Training, Government of Baluchistan, has been doing skill development of the youth of the area in line with the growing demand for skilled youth in the game changer China Pakistan Economic Corridor (CPEC). There are two categories of courses: the six-month courses include General Electrician, Plumber-cum-Solar Water Heating and Welding, while the second category is of one-year course in Industrial Electrician and Machinist.
The Competency Based Training (CBT) is being delivered under cooperative training mode, with three months institutionalized training and two months OJT. The courses are part of a special training fund for Sindh and Balochistan, which was set up by the TVET Sector Support Programme, funded by the European Union and Germany and Norwegian governments. Besides preparing youth for the labour market, the fund supports training institutes to develop and provide tailor-made programmes for enterprises. The objective is to facilitate the training of 18,000 men and women in Sindh and Balochistan and assist them in finding employment after graduation.
"We gave admission only to poor and unemployed youth of the area, who were provided with free training tool kits. The training at par with the international standards, under the supervision of industrial experts, equips trainees with the skillets needed in the industry. Having right machines and infrastructure, the trainees are given enough time to learn and practice in the centre before their OJT," says Mohammad Ayub, trainer and the assessor of Pak-German TTC, while continuing: "the industrial visits and guest lectures gives further exposure to the trainees."
Gul Hasan's father earns a minimum wage of Rs 14,000 pm. To augment this, Gul Hasan works as a security guard in a factory in the night and adds Rs 12,000 in the family income.
"Two of my elder sisters couldn't study due to unavailability of schools in the close vicinity of our residence. The younger two are studying now. Welding is a very strenuous job, due to constant exposure to heat, which affects front body, specially the eyes due to high temperature. But I chose welding course to generate better income for my family as my Ustad (teacher) advised me that welding is a good option to improve livelihood. A good welder can earn as much as Rs 25,000. After this course I will join some workshop. The trainees of welding specially need safety measures, as it is very risky," says Gul Hasan.
"We tell them about safety. We give them goggles, and other safety gears, while working in the welding department", explains Shabbir, Deputy Manager Machine Shop and In-charge of HSE (Health, Safety and Environment) at BCL.
In future, Gul Hasan wants to learn MIG (metal inert gas) welding, again a suggestion by his teacher. "MIG welding is used at micro places where human hands can't reach. Big companies use MIG welding. And this is my dream to work in a big company after learning this. In our area, young people have hardly educated till matriculation, and most of them do labour work. I want to live above this level, and bring better income and living standard for my present and future family," says profusely sweating Gul Hasan with an aim in his eyes.