By Shahzada Irfan Ahmed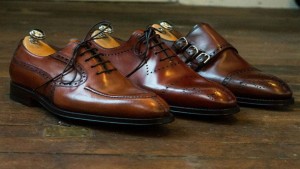 Pakistan is the sixth largest shoe manufacturer in the world and has the best quality leather available as basic raw material for the industry. Despite this, the sector's exports have plummeted and the export figure which was $131 million in 2014-2015 has come down to $95 million in 2016-2017.
The Pakistan Footwear Manufacturers' Association (PFMA) is striving to reverse this trend and has urged the government to help bring down the input costs which are quite high when compared to those incurred by the regional competitors. Another challenge it faces is the non-availability of skilled workers, especially technicians and designers.
To address this issue, PFMA has launched trainings under the Technical and Vocational Education and Training (TVET) Sector Support Programme (SSP), says Col (retd) Liaquat Ali Qamar, Secretary General of the association. TVET SSP is funded by the European Union and governments of Germany and Norway with the objective of improving governance and private sector participation in the TVET sector. The trainees get a monthly stipend of Rs 10,000. They have to work in factories as well as attend classes at training institute.
Liaquat shares eight supervisors from shoe factories were also sent to Germany to get trained as trainers. The trained workers can now cut out leather for 13 to 14 pairs of shoes from one goat/sheep skin as compared to a maximum of 7 to 8 in the past, he states.
PFMA is working on the second round of leather technician training. Besides, it plans to train around 4,000 workers involved in different tasks associated with footwear industry from cutting to finishing and final packing, over the next five years. Both these initiatives will be taken with the support of TVET SSP.
The story originally appeared in The News at
https://www.thenews.com.pk/print/233460-Untapped-garments-potential-needs-skills-spark