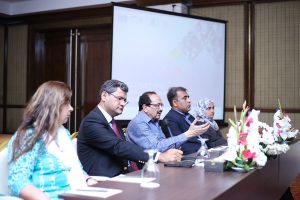 Lahore, August 31, 2018: The National Vocational and Technical Training Commission has launched a special skills training for the teachers from technical education and vocational training stream.
The technical skills upgradation training, which involves hands on practical learning, has been initiated with the support of TVET Sector Support Programme that is funded by the European Union and the governments of Germany and Norway.
Speaking on the occasion, Executive Director of National Vocational and Technical Training Commission (NAVTTC) Mr. Zulfiqar Ahmed Cheema underlined that an effective interaction between teacher and trainee plays an important role in provision of quality skills to the trainees, saying it contributes to improve productivity and quality.
'Quality training can only be imparted if the content and teaching methods are relevant to what is needed to a trainee according to the job market needs,"', said Mr. Cheema.
'Upgrading the teacher's skills will not only contribute towards the quality learning of the trainees but will also add a significant improvement in the overall TVET system of the country.', Mr. Mohammad Ali Khan, Team Lead Private Sector Engagement, TVET Sector Support Programme.
The training will be delivered to 750 TVET teachers from Punjab at various industrial locations. The objective of the skills upgradation trainings of TVET practitioners in Punjab is to enhance the teacher's capacity for improved planning and implementation of Competency Based Training and Assessment (CBT&A) which is the latest method of vocational training and education and according to the international standards.
Under these technical skills upgradation trainings for TVET teachers and practitioners; the industry backed training providers will train 750 teachers of Punjab Technical Education and Vocational Training Authority (TEVTA), Punjab Vocational Training Council (PVTC) as well as from the private sector institutes by the end of 2018.