Karachi, August 27, 2018: TVET Sector Support Programme conducted a three days capacity development workshop from August 15 – 17, 2018 in Karachi for the development of a capacity pool from the partner training providers representing public and private sectors.
The activity was aimed to create a resource pool of trained experts for smooth implementation of Competency Based Training and Assessment through 'National Vocational Qualification Framework Champions'.

The focus of the workshop was to orient and capacitate participants on three operational manuals of the NVQF through which the implementation of CBT&A can be channelized in their respective institutions.
The first phase of the workshop was attended by 35 academic coordinators, principals, and teachers. The final phase of the same workshop will be conducted in September 2018 to continue creating the capacity of the training service providers on the NVQF for CBT&A implementation.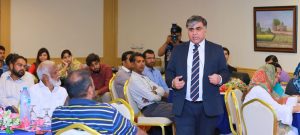 The ceremony was held with the support of TVET Sector Support Programme to award certificates to as many as 130 graduates. The ceremony was supported by TVET Sector Support Programme, which is mainly funded by the European Union and the Federal Republic of Germany. The TVET SSP is implemented by the Deutsche Gesellschaft für Internationale Zusammenarbeit (GIZ) GmbH in close collaboration with the National Vocational and Technical Training Commission (NAVTTC) as well as provincial Technical Education and Vocational Training Authorities (TEVTAs) and private sector organizations.