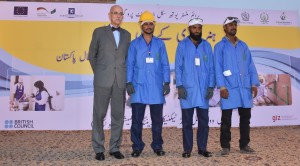 Islamabad: "The only way to success is education and skill learning is the key to it". These remarks were made by the ambassador of the European Union to Pakistan, Jean Francois Cautain while witnessing the 2nd national skills completion held at the Pakistan National Council of Arts, Islamabad on October 23rd, 2017
The National Vocational and Technical Training Commission (NAVTTC) organized the largest national level skills competition to motivate the young girls and boys for learning and participation towards technical and vocational education and training (TVET). The competition was held between candidates trained in 11 different trades like cooking, dress designing, driving, heavy machinery operator, filmmaking etc.
Speaking at the occasion, Executive Director Zulfiqar Ahmed Cheema said, "These competitions are a way to promote the trend of technical training in the country. The competitions also provide an environment for interaction between job seekers and job providers for future prospects".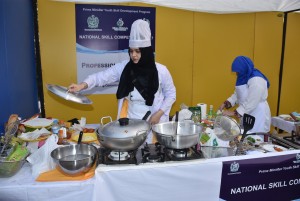 The winners of the competition were awarded the cash prizes, where an award ceremony will also be held in the President house to hand over the cash prizes and mementoes to the winners. Speaking of joy, Tayyba, said, "I was also part of the skills completion at Abu Dhabi in which I learnt a lot". Tayyba won the first prize for the trade of dress designing.