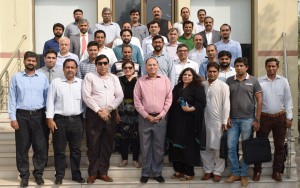 The media has a significant role to play in creating awareness in promoting the opportunities available in the technical and vocational education and training sector, says Sajid Naseer Khan, Managing Director Punjab Vocational Training Council.
Speaking to a group of media persons at Vocational Training Institute Green Town, Mr. Khan says media always supports in highlighting the significant areas for the development youth; overcoming the same contribute towards the country's development and prosperous economy.
To highlight the importance of the technical and vocational education and training (TVET) for the employment opportunities among youth, the TVET Sector Support Programme (SSP) organized media sensitization sessions with its provincial partners in Lahore, Abbottabad and Quetta.
Punjab Vocational Training Council (PVTC), Khyber Pakhtunkhwa (KP) Technical Education and Vocational Training Authority (TEVTA) and Balochistan Technical Education and Vocational Training Authority (BTEVTA) invited media persons from the mainstream print and electronic media witnessing the delivery of Competency Based module of Training (CBT) in various institutes.
Mr. Khan said that CBT&A is an efficient training system capable of bringing a paradigm shift in the delivery of TVET to ensure better job opportunities for youth.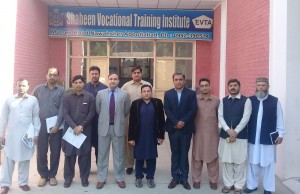 Continuing the strive of maximum outreach, the TVET SSP which is funded by the European Union and the governments of Germany and Norway supported its partner organizations for these sessions to create the understanding among media persons belonging to print and electronic.
'The role of media is very pertinent in creating awareness among general masses especially youth for learning 'skills' through CBT module bringing them to the avenues of employment opportunities', Mr. Khan opined.
He further shared that the PVTC has launched this training programme in its 79 institutes across the province in demand driven trades with the active involvement and input the enterprises and the private sector.
Meanwhile, a group of journalists from Peshawar visited Govt. Vocational Training Institute Abbottabad and visited different training workshops on the campus.
A similar session was organized by BTEVTA at Technical Training Center Sarki Road. National Vocational Technical Training Commission (NAVTTC) representative Zulfiqar Jatoi and BTEVTA Director Shah Dina Magsi briefed the media persons on the initiatives for reforming the TVET sector.
Speaking at the occasion, Secretary Labor Muhammed Rashid said that TVET is a game changer for the economic prosperity in the province of Balochistan, optimizing the youth bulge in technical education from the higher education.
'BTEVTA is working in close collaboration with NAVTTC for the implementation of National Vocational Qualification Framework (NVQF) through the CBT module and Assessment system' Rashid apprised.