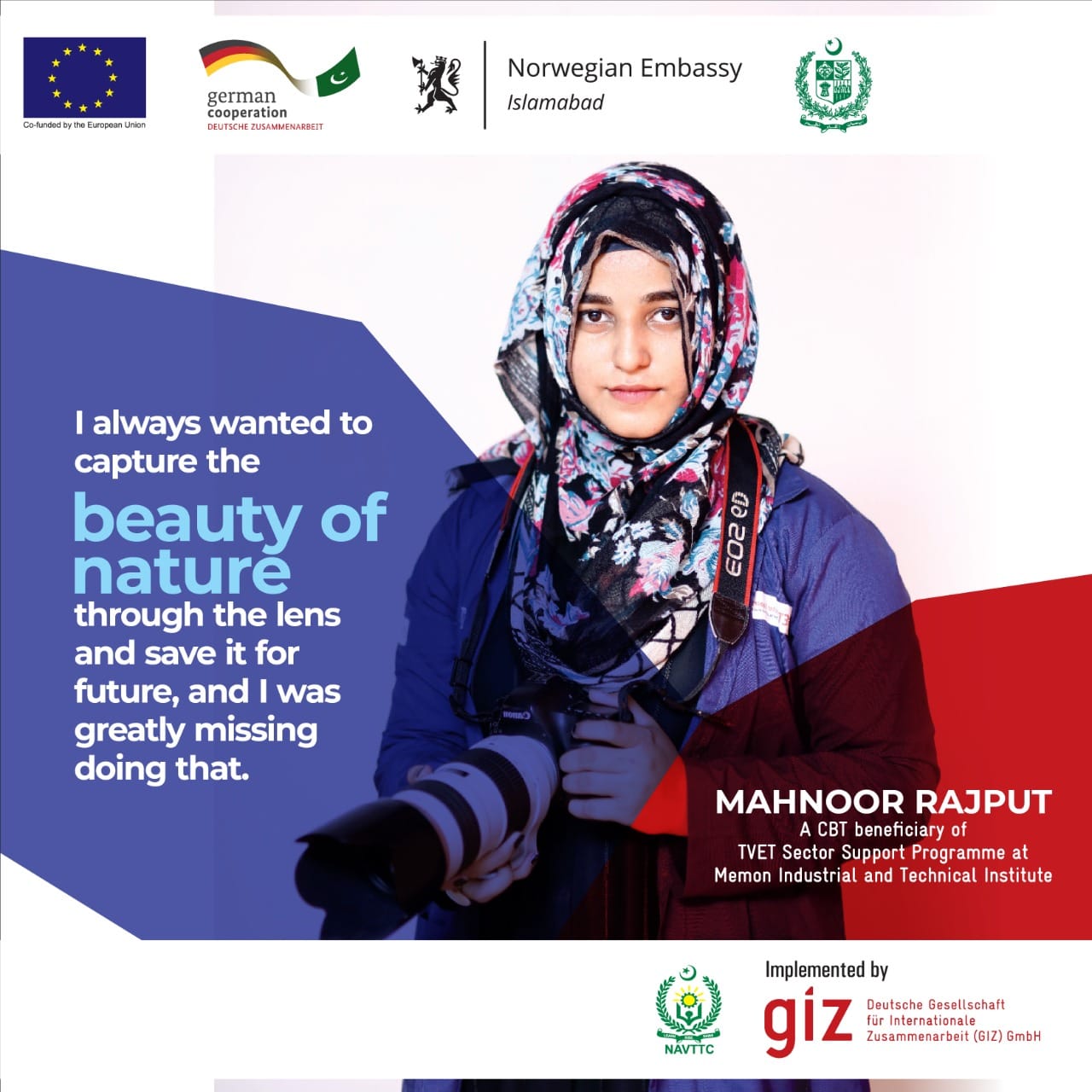 Mahnoor Rajput
Sometimes you stumble upon something in life quite by accident and discover a blessing that was waiting for you in disguise. These accidents in life become the source of inspiration for a new beginning. Your fall gives rise to a new passion. The passion to achieve more with utmost dedication and commitment. You decide to turn the scars into stars that shine on your chest as medallions of your achievement.
Mahnoor Rajput from Karachi is one such examples who decided to turn the tide and come out triumphant despite the troubled times. Mahnoor had started her journalism journey in 2019 when she met with an accident. The sheer force of this incident shattered her dreams momentarily and distanced her from her academic life. But she decided not to give up and took a determined stand to follow her dreams in life.
Despite this horrendous encounter, Mahnoor always saw the light at the end of the tunnel and decided to keep pursuing her passion; that is photojournalism. She started doing freelance work, but she always missed what she loved to do, and that was to take beautiful photographs. In Mahnoor's own words, "I always wanted to capture the beauty of nature through the lens and save it for the future, and I was greatly missing doing that". During the same time Mahnoor came to know about Memon Industrial and Technical Institute, a leading vocational and technical training provider in Karachi.
Memon Industrial and Technical Institute offers training in 11 different demand-driven occupations under TVET Sector Support Programme, in accreditation and affiliation with NAVTTC. At MITI, Mahnoor developed her skills in a professional environment with high-tech equipment. Mahnoor started her training with MITI in a TVET SSP supported CBT course of Professional Photography at NVC level 3.
Because of her professional skills, Mahnoor is now not only working at the national level but also at the international level. She attributes all this success to the skills she learnt at MITI with the support of TVET Sector Support Programme. She is thankful to TVET Sector Support Programme for empowering by training her with a competency-based skill set which brought her a new hope in life for achieving her goals.
Mahnoor's story is one out of many success stories thanks to TVET Sector Support Programme's delivery model and its on-the-job competency-based skills training. No doubt a bright future waits for the youth of this country with more employment opportunities for them to play a positive role in the economic development of their country.
Mohnoor is the beneficiary of TVET Sector Support Programme, which is working with NAVTTC, provincial TEVTAs and PVTC since 2011 for bringing reforms in TVET Sector. The second phase of programme has funding of 62.5 mn euro for implementation of reforms in the TVET sector of Pakistan on national, provincial and regional level. The Programme is funded by the European Union, Federal Republic of Germany and the Royal Norwegian Embassy. In second phase of its implementation, programme has supported competency-based-training of more than 41,000 men and women on the indigenous and industry-demand-driven trades. The Programme has been commissioned by the German Federal Ministry for Economic Cooperation and Development (BMZ) and is being implemented by the Deutsche Gesellschaft für Internationale Zusammenarbeit (GIZ) GmbH.