By Sheher Bano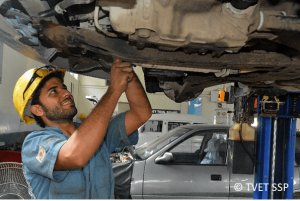 "My father saw an Ad of Auto mechanic course offered by the Skill Development Council (SDC), in a newspaper and we applied for it," said Hamza Rasool and Umer Rasool, the two brothers who are among the 20 trainees enrolled by the SDC and now they are studying their Auto mechanic course under OJT model at FAW Apollo Motors at Shahra-e-Faisal.
Coming from the low income area of Bhains Colony (Cattle Colony), Landhi Town, situated in the eastern part of Karachi, the brothers, in their teens, want to learn these courses to augment their family income. "We do hand embroidery and also sit in an estate office part time, but look forward to have better job opportunities after these courses."
SDC has been offering five courses to a total of 100 students, 20 in each trade, under two models. The National Vocational Qualification (NVQ) Level-II courses in IT Computer Operator, IT Office Assistant, and Customer Care follow Cooperative Vocational Training (CVT) model, a new model of vocational training jointly offered by the training institute and the industry.
NVQ Level-II courses of Beautician and Auto Mechanic follow the On-the Job-Training (OJT) Model, in which students learn and work within the industry. Both the models follow competency based training (CBT) or personalized learning approach that allows students to progress as they demonstrate mastery over a skill or competency at their own pace regardless of environment.
Syed Nazar Ali, CEO, SDC, suggested promoting OJT model. "Infact industry has the idea about international market needs and only they can produce skilled workforce to meet the demands of domestic and international markets," he added.
These courses, with the collaboration of Sindh Technical Education and Vocational Training Authority (STEVTA) are offered under a special training fund for Sindh and Balochistan, which was set up by the TVET Sector Support Programme, by European Union and the governments of Germany and Norwegian governments to prepare young people for the labour market. The fund supports training institutes to develop and provide tailor-made programmes for enterprises to facilitate the training of 18, 000 men and women and assist them in finding employment after graduation.
Trainees in the five trades hail from Landhi, Korangi, Shah Faisal Colony, Bhains Colony, SITE area, Mehmoodabad etc and also do odd jobs to augment their family income. Some trainees have also come from Northern Areas of Pakistan.
"I have a passion to work in automobiles, but our area lacks any opportunity for skill development," says Gulshan Din, who after doing his matriculation came here from Skardu, Baltistan, to live with his brother who is working in a restaurant in Karachi. Both live in a nearby Baloch Colony.
"Trainees do practice under the supervision of technical experts on various new models of cars and simulators," says M Nauman, the trainer, who was teaching transmission in the class. Having worked as a Diagnostic Technician in UAE, Nauman tries to accommodate all students with mixed educational background.
"I translate entire manual in Urdu. We also give them basic English and computer classes to make them understand English terminologies and processes easily," said Nauman.
FAW Apollo Motors has some self-employment scheme for these trainees. "We intend to start an on-call service, for which we will initially select 8-10 boys from these trainees, who will be provided with motorbikes. This mobile staff will provide on-the spot services to our clients. The boys will be given a share from this earning, which will be a kind of self employment for them. Soon they can start their own service-providing business. The objective is to develop this OJT model into entrepreneurship opportunity. Once successful, we will expand it to a larger group of students," opined Maqsood Ahmed and Khawar Kazmi, Directors of Apollo Motors.
The trainee Customer Service and Sales Assistant course, Maryam Ghauri, coming from Buffer Zone, calls it an entirely enriching experience of OJT in an automobile company. "Working in a completely male dominated company has its own fear factor. But my teacher Nazar Sahib's motivation and now after dealing with high-end clients during my OJT, I am confident that I can work in any big company in their customer care department."
During the discourse Moiz Ahmed, Director Operations, Apollo Motors informed that the trainees are groomed for communication and mannerism to deal with high end clients. "There is need to inculcate a sense of commitment and dedication towards work among trainees to turn them into a productive workforce," he concluded.