By Sheher Bano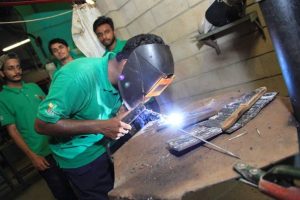 A banner displayed at the entrance of the Fabricating and Welding Department of AMANTech (Aman Institute for Vocational Training), Korangi Creek, says it all: "Fabricating your dreams into reality". One needs to develop a passion for learning, to turn dreams into reality.
Coming from the Karachi City centre area of Kharadar (meaning in Urdu Brackish gate), Shahbaz Ashraf, travelling a distance of 20 km in around 45-50 minutes, is driven by his passion. Son of a goldsmith father, who has a gold jewelry shop at Kharadar, Shahbaz learnt jewelry designing from his father. Initially, he tried his luck at Masqat with this skill, but the efforts didn't materialize. Then he took admission in DAE (Diploma of Associate Engineer) in Mechanical at YMCA Technical Institute, Saddar, Karachi but the course didn't satiate his thirst. Finally, he landed at a free course in Welding and Fabrication at AMANTech.
Quitting the profession of Goldsmith to opt for welding, Shahbaz was happy with the switch over. "I had a passion for this work. In 4-5 months at AMANTECH, I have learnt more than what I had learnt at DAE. I have recently been interviewed at Marine workshop at Shipyard, where they have selected me for the job, though I haven't completed my course here."
Shahbaz is one the 150 students who are being enrolled in various courses offered at AMANTECH Institute, including Automobiles, IT office Assistant, HVAC, Welding, Electrical, with 30 students in each trade. The courses are part of a special training fund for Sindh and Balochistan, which was set up by the TVET Sector Support Programme, by European Union and Germany and Norwegian governments to prepare young people for the labor market. The fund supports training institutes to develop and provide tailor-made programmes for enterprises. The objective is to facilitate the training of 18, 000 men and women and assist them in finding employment after graduation.
Like Shahbaz, other students have also come here to realize their dreams, from low income families of Korangi (East of Karachi), North Karachi and Surjani Town (North East of Karachi), and Garden.
"I am sure 80% of our students after On-the-job Training will be inducted in the industry," said Instructor Muazzam Ali, a BE from Mehran University. "Competencies of the students are developed through a process of learning by doing," he added.
"Drop out of the students is the biggest challenge for us" says Muhammad Hasseb Khan, Senior Manager, Special Projects & Admin, AMANTECH. "The reason is either the students get a job in between the course, or some of them lose only source of income at home and they have to quit to go for survival income. But we can't help it," he added.
"The training is augmented with added knowledge of computer, basic spoken English, communication, interview skills and grooming, and industrial visits, and guest lectures by industry professionals," said Haseeb
A quote on one of the walls read, "I will reach the finish line", rightly interprets the objective of these courses, which have an inbuilt purpose of giving a career path to the students.