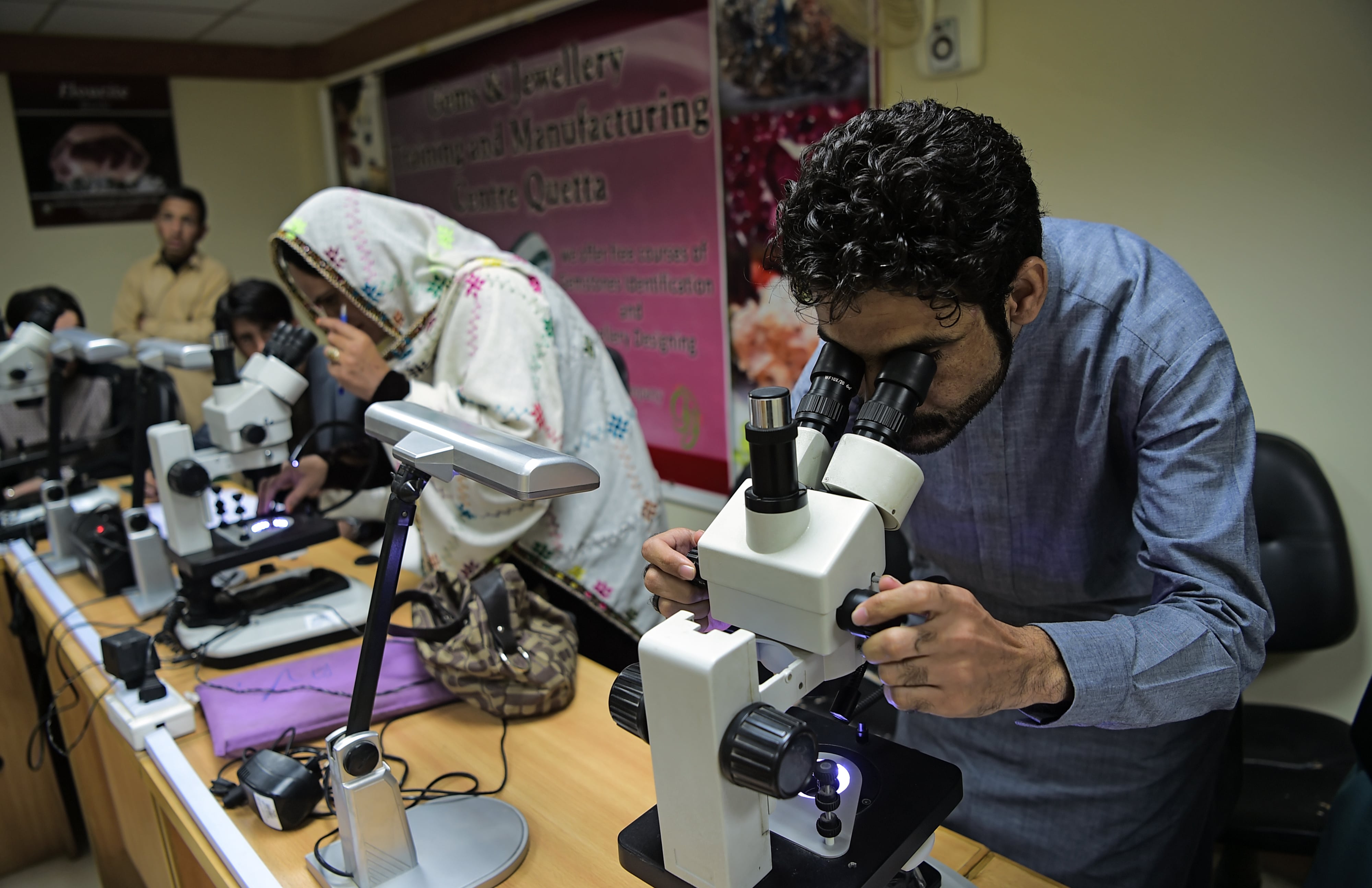 By Sheher Bano
Mohsin Raza is the youngest among the 100 trainees of the Gems & Jewellery Training and Manufacturing Centre (GJTMC), Quetta. Studying in 6th grade, he goes to school in the morning and joins evening class of the centre and sits in his father's gemstone shop on Saturdays and Sundays.
Seeing him dealing with the customers, coming to his stall at the "Gems and Jewellery Exhibition and Skill Showcasing", at Serena Hotel, Quetta, showed Mohsin's keenness in the trade. The expo was held with the joint collaboration of the Pakistan and Gems and Jewellery Development Company and Serena hotel in October 2018.
Located in Malik Plaza on M. A. Jinnah Road, GJTMC, Quetta, is offering short courses in gemstone faceting, gemstone carving, fashion jewellery making (beads and wires) and gemology in teaching factory mode.
These courses are offered through a special training fund for Sindh and Balochistan, which was set up by the TVET Sector Support Programme, funded by the European Union and Germany and Norwegian governments. It aims to facilitate the training of 18,000 men and women in Sindh and Balochistan and assist them in finding employment after graduation.
"Moshin is one of the brightest students of my class, with remarkable understanding of gems despite his low education. I as a teacher foresee a great future ahead for him," says trainer Salman, who is BS in Geology and doing research for his MS.
With knowledge and interest in gems running in his blood, Mohsin is clear about his future: "After studies, I want to become a pilot," he moved his hand like a flying aeroplane. "But if, God forbid, I failed, I will join my father's business with this newly acquired technical skill," he asserted.
"From colouring stone to diamond grading, I teach everything in my class, where from a 12-year student to 48 years old, are either learning for the first time or are already in the business of gemstones and want to increase their knowledge for their business," says Salman.
Salman thinks Balochistan lacks skill development facilities at government level and if the government sets up two factories here, it can generate employment for the local youth. Moreover, if skilled people are sent abroad then they can further produce local trainers of international standard. With the support of GIZ and NAVTCC the centre can conduct international courses too," Salman advises.
"Balochistan has reserves of precious stones like Peridot, Xernite, Ruby, Amethyst, diamond, Quartz, Smoky Quart (a very rare stone), and Topas (world's rarest stone). Due to lack of awareness, people cannot explore this precious natural gift for their livelihood," maintains Bashir Agha, the Principal of GJMTC and Project Coordinator of the Training Fund Program.
Agha himself has done 20-25 short courses and holds Gems and Jewellery Accredited Jewellery Professional certificate from the Gemological Institute of America (GIA).
"I also developed the national qualification framework for this course and coding and levelling exercise under NVQF. I have also developed business linkages to create opportunities for the trainees of the institute," he informed.
"We will give free toolkits to the students after the completion of the course to help them start their own businesses," he concluded.