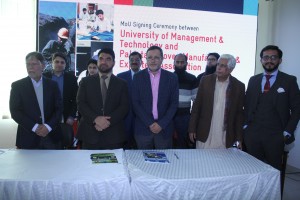 Sialkot, November 30, 2017: University of Management and Technology (UMT) and Pakistan Gloves Manufacturers and Exporters Association (PGMEA) on Thursday agreed to jointly work for producing skilled workforce required by the leather industry.
Both the academia and the industry expressed their resolve to jointly work at a ceremony, which also marked the signing of a Memorandum of Understanding (MoU) between the PGMEA and UMT. The ceremony was supported by the TVET Sector Support Programme (SSP), which is funded by the European Union and governments of the Germany and Norway.
As per the MoU, both the sides agreed to cooperate and collaborate on matters related to setting skills standards, identifying occupational gaps, Recognition of Prior Learning (RPL), job placement, apprenticeship, teachers and instructors training and on-the-job training.
Mr Nadeem Abdullah, Chairman PGMEA and Syed Muhammad Bilal, Director UMT singed the MoU on behalf of their respective sides.
Speaking at the ceremony Chairman, PGMEA Mr Nadeem Abdullah said, "Skilled workforce trained through technical and vocational education can improve the economic output for the industry and add value in terms of quality human resource."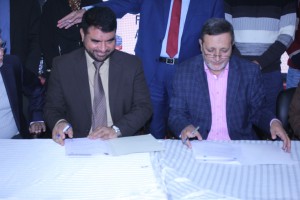 Syed Muhammad Bilal, Director UMT said that the technical skills training and education can prove as a significant value addition to the industry and collaboration between public-private sectors can enable a conducive environment for indigenous curriculum development and training delivery.
Guest of Honor Mr Riaz-u-Din Sheikh, Group Leader, Pakistan Business Community and CEO, Comet Group said, "these collaborative efforts will not only result in better employment opportunities for the youth but it will also benefit the industry."
The TVET SSP, which supports the Government of Pakistan in reforming the TVET system, promotes cooperation between training providers and industry to improve quality of training as well as enhance employability for the youth going through various training programmes.