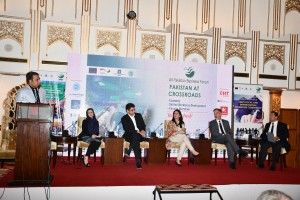 Islamabad: 04th December 2017 – The All Pakistan Business Forum (APBF) recently concluded an insightful forum at the Marriot Hotel in Islamabad. The event was titled: "Pakistan At Cross Roads", where a large number of learned speakers, entrepreneurs, regulatory officials and leading diplomats had gathered to discuss the key issues in Pakistan's National Economy, Development of a better Skilled Workforce and presenting the Country's Narrative, to cope with the emerging trends and need for global competitiveness.
The main themes of this conference presented; An overview of the current state of Pakistan's economy – considering the Opportunities, Challenges and the Ease of doing business. Another session was focused on; the importance of Skilled workforce development, where the experts discussed ways to increase productivity and exports, fulfil industry requirements, anticipate future trends and appreciate the efforts made by international partners. The third session's theme was to refresh the Country Narrative, for strengthening Pakistan's image internationally. The business leaders shared their wisdom too; Attract international investors while overcoming the security challenges. The conference was supported by the Technical and Vocational Education and Training (TVET) Sector Support Programme, which is funded by the European Union and the governments of Germany and Norway.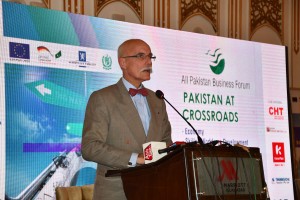 The President of APBF – Mr. Ibrahim Qureshi thanked the distinguished participants of the forum and stated that: "The vibrant business community of Pakistan is playing a pivotal role in economic progress, as we collaborate with the key stakeholders, international experts and institutions, to suggest realignments in government policies with the changing needs and evolving dynamics of global trade and commerce. We are inspiring fresh efforts towards capacity-building and skills development to nurture a globally competitive workforce. Moreover, the learned participants have also suggested a powerful new narrative for Pakistan, to strengthen its image as a safe, robust and attractive destination for Foreign Direct Investments."
A special session titled: "Skill Workforce Development" featured distinguished speakers like; the Ambassador of the European Union (EU) Delegation to Pakistan – H.E. Jean-François Cautain, Mr Jens Jokisch, Deputy Head of Mission, Embassy of Federal Republic of Germany, Mr. Zulfiqar Ahmed Cheema – Executive Director NAVTTC, Mr. Muhammad Ali Khan – Team Leader at TVET Sector Support Programme. The Expert Panel Discussion in this session featured delegates like; H.E. Daniel Ramos Espiritu – Philippines Ambassador, Mr. Saadat Ali – Senior Programme Officer, Embassy of the Netherlands, Ms. Quanita Ali Khan – Economist World Bank, Mr. Hans-Ludwig Bruns – Head of Programme, TVET Sector Support Programme, and Ms. Sabina Ahmed – TVET Expert. The Moderator of this panel was Mr Muhammad Ali Khan from TVET Sector Support Programme.
The initiative was supported by the TVET Sector Support Programme, funded by the European Union and governments of Germany and Norway. An advisory forum has already been established at federal level for the promotion of TVET along with fostering partnership among stakeholders mainly from the public and the private sector.