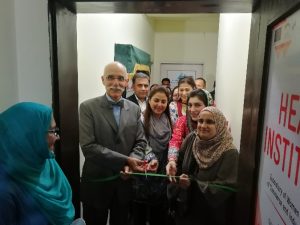 LAHORE, Oct 4, 2018: The Women Chamber of Commerce and Industry has established a specialized institute to deliver vocational training to the women folk in various occupations, which are needed in the job market.
The center- Heal Institute- was formally inaugurated by the Ambassador of European Union to Pakistan H.E Mr. Jean-François Cautain at a ceremony held here on Thursday. Mr. Faisal Hayat, advisor to Chief Minister Punjab, office bearers of the Women Chamber of Commerce and Industry (WCCI), Lahore and large number of women entrepreneurs attended the ceremony.
This institute has been established with the technical support of the TVET Sector Support Programme, which is funded by the European Union and the governments of Germany and Norway. The Programme is being implemented by the Deutsche Gesellschaft für Internationale Zusammenarbeit (GIZ) GmbH in collaboration with National Vocational and Technical Training Commission (NAVTTC) and various organizations from public and private sectors including the WCCI, Lahore.
Initially, the Heal Institute will offer Competency Based Training (CBT) in trades such as E. Commerce and Call Center Agent, while later on more demand-driven trades will be added based on the demand of the job market. The pass outs of these training programmes will receive national certificates, which will increase their prospects of employability more than the traditional training programmes.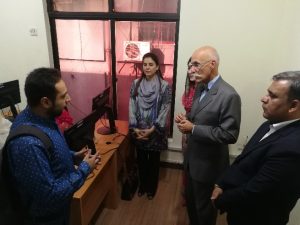 While inaugurating the institute, the EU ambassador lauded the initiative of the WCCI, saying it will go a long way in providing employable skills to the women, particularly in non-traditional occupations. He said women makes 53 per cent of the population, however, their participation in the labour force is quite negligible. "With launch of such institutes and training courses, more and more women can enter into labour market and ultimately they will contribute to their socio-economic uplift," opined the EU envoy.
Advisor to Chief Minister Punjab Mr Faisal Hayat also appreciated the WCCI for taking such an initiative and hoped that it will prove beneficial for the women, who would like to adopt as a career path. He said the Punjab government is committed to empower women in every field of life, saying particular focus is being given to skills training.
Earlier, the EU ambassador unveiled the plaque of the institute. He also interacted with the learners, who have signed up for the courses currently being offered at the institute. The WCCI president Ms. Faiza Amjad briefed the ambassador about the aims and objectives of the institute as well as the courses to be offered to the women.