By Sheher Bano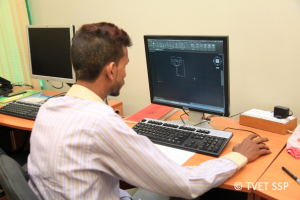 Creating training opportunities keeping in mind the people with special needs is not only time consuming but also requires the courage to break old moulds. It also needs an out-of-box thinking to create something special for those who have challenging lives. It was with this thinking that Seemin Kanwal, a resident of North Nazimabad, got herself enrolled in AUTOCAD course at Karachi Tools, Dies, and Moulds Centre (KTDMC), Korangi, Karachi. Having done her MA Economic and BS in Computer Science, she teaches at the Ida Reu School for the Blind and Deaf, Karachi.
"Our students are already using computer and work on JAWS software which is a computer screen reader program that allows blind and visually impaired users to read the screen either with a text-to-speech output or by a refreshable Braille display. After doing this course, we want to convert it into Braille system, to aid in children's learning."
Seemin says that they are also working on a joint venture between Ida Reu School and KTDMC, where the trainers at the KTDMC will learn the sign language and then teach the children having hearing and speech impairment.
Her colleague, Fatima Mustafa, who also comes from Nazimabad, is a Braillist at Ida Reu School and writes books in Braille. She is also enrolled in AUTOCAD course. "We will develop Braille books for this course for students. Partially blind students can learn this course easily, while totally blind students will learn through Braille."
These two girls who travel a distance of around 25-30 km daily which takes them one and a half hours daily to reach the centre, want to break away from the old norms: "Instead of the age-old skills like cane chair making, we want blind students to benefit from the new IT skills. The deaf students will learn it through sign language and will develop projects accordingly," they implied.
"Our next plan is to teach special children here new and innovative ways of learning and getting gainfully employed," says the Project Coordinator of TVET Sector Support Program (SSP) Courses and Controller of Academics, KTDMC, Syed Muhammed Shahzeb. "Since our's is a teaching factory model, an environment of learning by doing will be provided to these students, to make them aware of the standards and procedures applicable in the industry. Besides, the institute has also started Google classrooms, where students can access their lectures etc through Google."
KDMC has developed a 10-years database of students, which will help the industry to get access to the skilled workforce developed by the Institute. "We are sure that once the course gets completed, 75% of our students will be inducted within the industry,' he added.
KTDMC started two six-month courses under TVET Sector Support Program ie AUTOCAD Level-II and Machinist, with 20 students in each course and having three batches for each trade.
The courses are part of a special training fund for Sindh and Balochistan, which was set up by the TVET Sector Support Programme, by European Union and Germany and Norwegian governments in order to prepare young people for the labour market. The fund supports training institutes to develop and provide tailor-made programmes for enterprises. The objective is to facilitate the training of 18, 000 men and women and assist them in finding employment after graduation.
Coming from adjoining areas of Korangi, Landhi and also as far as Orangi and North Karachi, majority of these students are doing these courses to increase their skill level for their current jobs. "My current salary is Rs 19,000, but AUTOCAD is a requirement of my job. After finishing this course, I expect a salary of Rs 25,000," says Ghazanfer Abbas, working at Atlas Engineering as CNC Machine Operator.
In his early thirties, Ghazanfer is married with one daughter. To meet his growing family needs, he wants to get himself enrolled further in the CNC Programming after this course. "Though difficult to manage job and course simultaneously, but finally it will give me benefit of increment and promotion. The Teaching Factory Model of this course has given us an opportunity to develop our competency for the skill in the industry environment," he said smilingly.