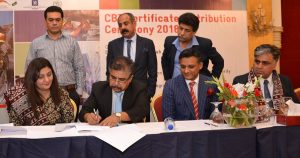 Karachi, July 11, 2018: "On-the-job trained skilled and certified workforce can gain major employability benefits to prosper in their profession." These remarks were made by Dr. Syed Junaid Ali Shah, Minister Sindh Technical Education and Vocational Training (TEVTA) in the Competency Based Training (CBT) Certificates Distribution Ceremony of at a local hotel in Karachi.
The ceremony was held with the support of TVET Sector Support Programme to award certificates to as many as 130 graduates. The ceremony was supported by TVET Sector Support Programme, which is mainly funded by the European Union and the Federal Republic of Germany. The TVET SSP is implemented by the Deutsche Gesellschaft für Internationale Zusammenarbeit (GIZ) GmbH in close collaboration with the National Vocational and Technical Training Commission (NAVTTC) as well as provincial Technical Education and Vocational Training Authorities (TEVTAs) and private sector organizations.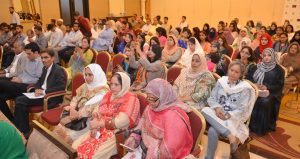 The Competency Based Training and Assessment (CBT&A) Programme is being run under the selected vocational trades across the country to bring a paradigm shift in the delivery of technical and vocational education and training.