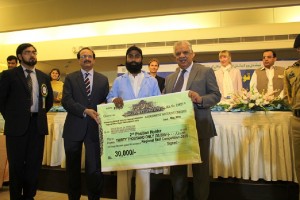 PESHAWAR, May 4, 2016: A large number of trainees of various vocational training courses demonstrated their skills at the first-ever national skills competition organized by the National Vocational & Technical Training Commission (NAVTTC) here on Wednesday.
The national skills competition, first time of its kind, is part of a campaign, which the NAVTTC has initiated recently to improve the image of skilled workers and attract more youth towards technical and vocational education and training (TVET) in Pakistan.
For this competition, which took place in all the provinces, the Khyber Pakhtunkhwa was divided in four zones, where both male and female trainees of different vocational training programmes participated. Winners of these four zones then competed at the provincial level competition in 14 different trades here on Wednesday.
Winners and runner ups were given cash prizes at a ceremony organized by the NAVTTC in collaboration with the TVET Reform Support Programme, which is funded by the European Union and the governments of the Netherlands, Germany and Norway.

The Governor Khyber Pakhtunkhwa Engineer Iqbal Zafar Jhagra was the chief guest on the occasion. While, the ambassador of the Federal Republic of Germany Ms. Ina Lepel, ambassador of the Kingdom of the Netherlands Mrs. Jeannette Seppen and ambassador of the European Union to Pakistan Mr. Jean-François Cautain were the guests of honour. Also, a large number of people from different walks of life including industrialists, TVET providers and parents of the participating TVET trainees were present.
In their speeches, the governor and envoys congratulated the winners of the skills competition and hoped that being skilled persons they will contribute to the national economy. They also lauded the efforts of the NAVTTC for vigorously steering the TVET sector reform in Pakistan.