LAHORE, July 28, 2016: As many as 29young men here on Thursdayreceived completion certificate of a special vocational training course,which was jointlyoffered by a training institute and several national and multinational companies.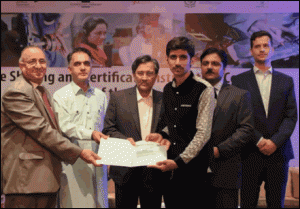 The young skilled persons, many of whom have already joined the job market, were awarded certificates at experience sharing and certificate distribution ceremony, organized by the Punjab Technical Education and Vocational Training Authority (PTEVTA).
The PTEVTA is part of the pilot phase of Cooperative Vocational Training (CVT), a scheme wherein the theoretical training takes place for half of the time at the training institute and the remaining period at the partner company as on-the-job training.
This special vocational training programme is supported by the TVET Reform Support Programme, which is funded by the European Union and the governments of Netherlands, Germany and Norway.
Around 15 enterprises partnered for managing on-the-job training and total 29 students graduated from two trades including Machinist and Electrical Technician from Govt. Technical Training Institute, Mughalpura in Lahore.
Mr. Pervaiz Malik, Member of National Assembly was the chief guest at the occasion while Member Punjab Assembly Mr. Chaudhry Shahbaz, chairperson Punjab Trade Testing Board Ms. Nabeela Saeed Kazmi, District Manager of TEVTA Punjab Mr. Khurram Shafiq and Principal of Government Technical Training Institute (GTTI)Mr. Mian Ehsan Ilahi distributed the certificates among pass outs.
Mr. Malik speaking at the occasion congratulated the pass outs and praised the cooperation of technical partners and companies to produce skilled workforce as per the demand of the market. He assured his all-out support for such training initiative and resolved that present government would continue to support such initiatives in future as well.
The representatives from the participating companies and government departments also shared their experiences of cooperative vocational training.Shields were also distributed among partnering companies.