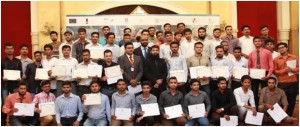 KARACHI, May 25, 2016: As many as 87 young men and women here on Wednesday celebrated the completion of a special vocational training course, offered jointly by two training institutes and several national and multinational companies here in Karachi.
The jubilant young skilled persons, many of whom have already joined the job market, were awarded certificates at the ceremony, organized by the Aman Institute for Vocational Training(AMANTECH) and Institute for Advancing Careers and Talents (iACT).
Both the AMANTECH and the iACT are part of the pilot phase of Cooperative Vocational Training (CVT), a scheme wherein the theoretical training takes place for half of the time at the training institute and the remaining period at the partner company as on-the-job training.
This special vocational training programme is supported by the TVET Reform Support Programme, which is funded by the European Union and the governments of Netherlands, Germany and Norway.
Around 24 enterprises partnered for managing on-the-job training and total 87 students graduated from seven trades including mechanical, electronics, general electric, automobile,fabrication welding and pipework, logistics and supply chain and customer support and sales assistant.
Mr. Syed Nazar Ali, chief executive officer of Skills Development Council Karachi, Mr. Abid Raza, senior manager of General Tyre, Ms. Zehra Raza, head human resource and communication, Autocom in their brief remarks congratulated the pass outs and shed light on the experience of the implementation of the CVT. Mr. Sheikh Hammad Mateen, programme head, Amantech and Mr. Faheem Bukhari, head of projects, Habib University Foundation also spoke and handed over the certificates to pass outs.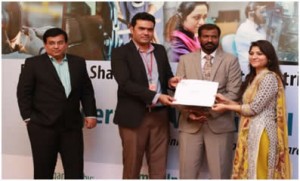 Mr. Shahbaz Islam, acting general manager of the Sui Southern Gas Company Limited delivered a motivational speech at the occasion to boost the morale of the passed out trainees.
The representatives from the participating companies and government departments also shared their experiences of cooperative vocational training. At this occasion, success stories of the programme were also shared. Certificates were distributed among pass outs and shields to partnering companies.