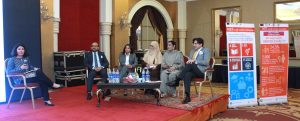 Karachi, May 10, 2018: "Women can play an integral role through their keen social and economic understanding and involvement for a prosper growth of self, household and community." These remarks were made by Mr Zubair Tufail, Chief Executive of Tufail Chemicals and Former President of Federation of Pakistan Chamber of Commerce and Industry (FPCCI) in a Dialogue on Gender Mainstreaming in TVET held at a local hotel in Karachi to promote the role of women in technical and vocational education (TVET).
Speaking at the ceremony, Ms Ameena Sayed, Chief Executive, Oxford University Press said that training under latest trades can provide opportunities to women for better learning and employment opportunities and the technical training can prove to bring women in mainstream for economic development.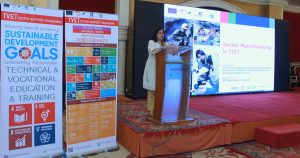 Gender equality and uneven economic opportunities for women in the TVET sector are the challenges that country is currently facing through. Improved participation in decision making and increased access to the training and learning opportunities may help in mitigating these challenges. Availability of relevant skills and trades through skill-building and competencies and employment prospects may instill a trend of better economic growth for women on the rural and urban level.
The workshop was organized by Sindh Technical Education and Vocational Training Authority (TEVTA), Women Chamber of Commerce and Industry, Karachi and International Business Council (IBC) in collaboration with the support of TVET Sector Support Programme funded by funded by the European Union and the Federal Republic of Germany.
The TVET Sector Support Programme implemented by the Deutsche Gesellschaft für Internationale Zusammenarbeit (GIZ) GmbH in close collaboration with the National Vocational and Technical Training Commission (NAVTTC) as well as provincial Technical Education and Vocational Training Authorities (TEVTAs) and private sector organizations promotes women's full and effective participation at all levels and advocate maximum opportunities for employment. The programme also undertakes multiple interventions to enhance the use of enabling technology for accessing labour and economic market through multiple measures.