By Sheher Bano
The 32 years old Saima Iqbal, an IT Office Assistant trainee from the Women Technical Training Centre (WTTC), Quetta, is the living example of the phrases: "The human spirit is an ability, perseverance and courage that no disability can steal away. You have the power to say "this is not how my story will end"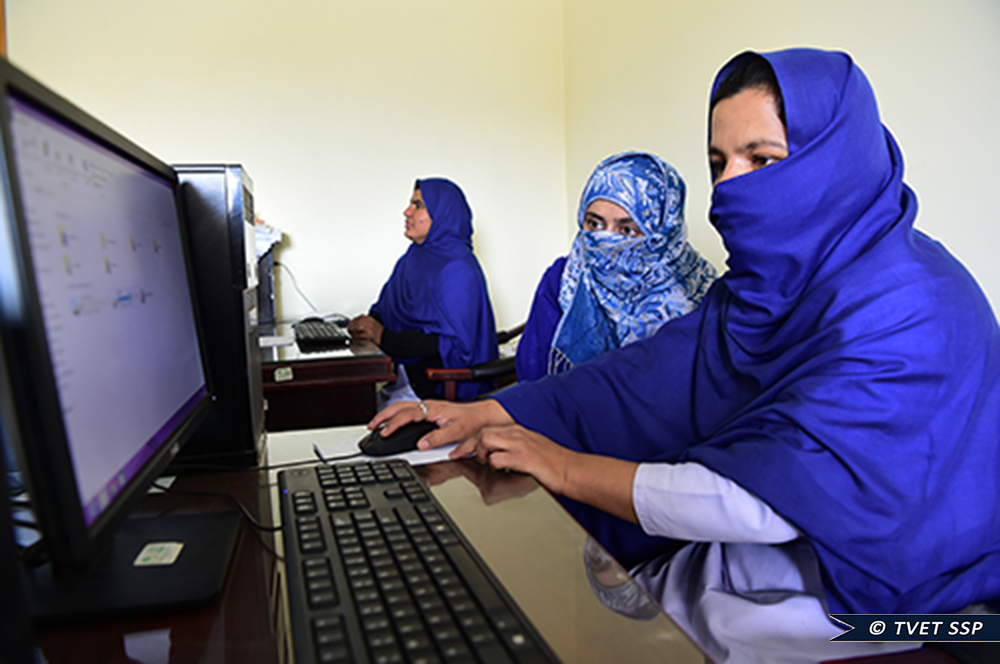 As they say, life is not a bed of roses, yet it is more challenging for some people. Saima had a benign tumor (a growth) on her last vertebrae, since her birth but due to lack of proper treatment facilities in her area, the tumor gradually started affecting her lower extremities. After she grew up, her family found about a doctor in CMH Quetta, where she was operated upon and doctors removed her tumor. But the damage had already been done as her right leg was affected almost to the extent of disability. Now she has to walk with crutches.
Saima is one of the 62 trainees who are enrolled in WTTC in three trades vis-a-vis Computer Operator, Professional Cook and Office Assistant, who are trained under the cooperative training mode of CBT (Competency Based Training). Initially, students are trained at the centre for four months and later they go for two months on the job training (OJT) at the enterprises, where they get hands on experience of the industry.
The courses are part of a special workplace-based training Programme for Sindh and Balochistan, which was set up by the TVET Sector Support Programme, funded by European Union and the governments of Germany and Norway in order to prepare young people for the labour market. The fund supports training institutes to develop and provide tailor-made Programmes for enterprises. The objective is to facilitate the training of 18, 000 men and women and assist them in finding employment after graduation.
Being the eldest among her four sisters and three brothers, Saima, after losing her father at a young age of 17, was left high and dry by the relatives. "I along with my mother, who was a JVT female teacher in a school, used to teach students for a mere Rs 100/student," says Saima who comes from Nawakli, half an hour travel from the centre with the help of her brother who picks and drops her on a bike.
After abandoning teaching job, Saima started dress designing and embroidery work from home, a source of income as well as a way to satiate her creative nature.
"I also make handicrafts and do crochet work, a family skill. I have created "Raniya's Collection", a brand named after from my mother's nick name" Rani. It has collection of frocks, bags, and other children's accessories, all handmade crochet work" says Saima.
"Vulnerable and marginalized groups' girls were at the heart of our admission policy. Girls having parents working as chowkidars, or helpers in homes (masi), were selected for these courses as this group needs such trainings the most. The trainees are in the age group of 18-35 years." says Ms Shabnam Naz, the principal of WTTC.
"All the girls are regular and efficient and apply their learning from the centre in the work assigned to them on a daily basis. Initially shy and confused, these girls gradually have improved their confidence level, as this was their first experience to work in a male dominated office. We gave them a separate room upstairs, where they work with complete liberty. These courses are in great demand here, especially for females. Though not available at the moment but as soon as there are posts in our office, we will definitely offer jobs to these skilled girls. We are training them in accounts work on Excel program under the supervision of a staff member Mr Raheel. BTEVTA, working under Labour and Manpower Department of Balochistan, is an equal opportunity employer and encourages women employment," says Noor Ahmed, Accountant, working for Skill Development Program of BTEVTA.
"Initially there was only one computer here, so I spared it for my colleagues and I brought my own laptop to work here. Later the office provided us more computers and the work was smooth," says Saima working on an excel spreadsheet.
Ironically, Saima's class at the centre and her room at her enterprise were at the first floor, where she manages to alight the staircase and come down with the help of her sister. "It's a life time issue, for how long I can ask favour for myself. The moral support from my family and colleagues keeps me going," she responded with a smile. Saima has yet to see a job which is not only financially rewarding but also gives her facilities which her physical condition demands.
In Pakistan, in the absence of credible data on disability, many people, specially females like Saima, remain uncounted in the demography of Pakistan. The number of males with disability in Pakistan is greater than females, possibly because of the high incidence of female infanticide caused by social discrimination, preference for the male child, and deep-rooted gender insensitivity within households. It is estimated that around 1.4 million (28.9% of total number of PWDs) are the children of school going age who do not have access to education. (Dr. Kausar Waqar, Aga Khan University May 2014).
Saima paints as a hobby and draws natural beauty and sceneries. Her brushes sketch a world which is beautiful, perfect, and free from pain and sufferings. Probably, this is how she tries to turn her little imperfection to perfection, as she herself says, "I have taken my disability as a challenge. I will not let it defeat me at any cost".