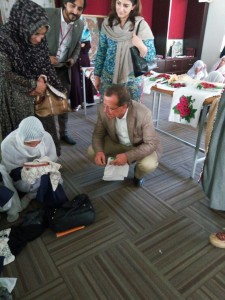 CHITRAL, October 13, 2017: Vocational training plays an important role in enabling the youth in adopting a decent career path," says Martin Kobler, the German Ambassador to Pakistan during his visit to the Government Vocational Training Institute for Women (GVTI), Chitral
The GVTI for Women is one of the pilot institutes, supported by the TVET Sector Support Programme offering Competency Based Training and Assessment (CBT&A) courses. There are currently 125 women trainees enrolled in six trades like beauty therapy, dress designing and Information, Communication Technology. These CBT courses are based on demand-driven criteria with the identification of potential employment opportunities in the region.
During his visit, the ambassador appreciated the technical skills of women trainees of the institute crafting different products especially in the trade of stitching.
While briefing to the ambassador, the Principal of GVTI, Afiya Jama apprised on potential challenges they have met while starting the first-ever vocational training center for women in Chitral. The ambassador opined that women of this region are a great source of inspiration, facing all the challenges for education, learning and development.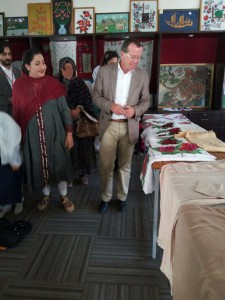 The GVTI is also selected by NAVTTC for implementation of two courses on CBT&A mode under the Prime Minister Youth Skills Development Programme and as many as 50 women trainees are enrolled in the dressmaking and skin care courses.
The institute also has a functioning Institute Management Committee (IMC), which supports its linkages with the local job market. The institute has also set a well-functioning career counselling and job placement office for guiding trainees on career progression and employment opportunities.