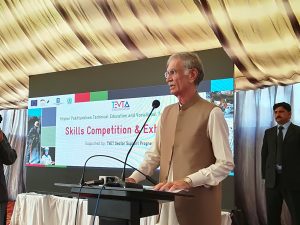 NOWSHERA, March, 16, 2018: The Chief Minister of Khyber Pakhtunkha (KP) Mr Pervez Khattak said that the youth are an asset and the government of Khyber Pakhtunkhwa have started various technical and vocational training Programmes to impart skills training to the youth to earn better living for themselves.
Speaking on Friday at a ceremony held for the 'Skills Competition and Exhibition" at the Government Technical College of Technology in Nowshehra, he said that the government wanted to prepare skilled workforce as it was the need of the hour. The KP Technical and Vocational Training Authority (TEVTA) organized this ceremony in collaboration with TVET Sector Support Programme which is funded by the European Union and government of Germany and Norway.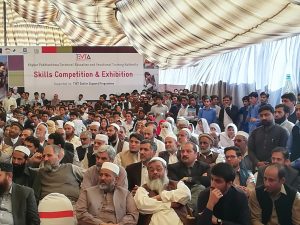 Pervez Khattak said that the provincial government had made various technical educational institutes fully functional in collaboration with the Pakistan Air Force and other partners besides signing various agreements with some number of industries to provide decent employment to the skilled youth. He said that there were enough resources and potential in the country to make progress but there was a need for change in the mindset. "If we really want development and prosperity then we would have to bring change in our approach. We need to bring change in our thoughts and minds," he envisages.
The ceremony was supported by the TVET Sector Support Programme which is funded by the European Union and the Governments of the Germany and Norway and implemented by the Deutsche Gesellschaft für Internationale Zusammenarbeit (GIZ) GmbH in close collaboration with National Vocational and Technical Training Commission (NAVTTC), TEVTAs and a number of organizations from public and private sectors across Pakistan.
The chief minister besides visiting various stalls also handed over Recognition of Prior Learning (RPL) certificates. Memorandum of Understandings between TEVTA and private sector organizations were also signed at this occasion.